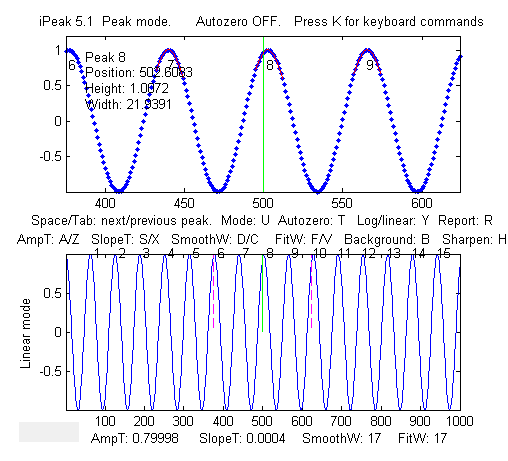 Example 1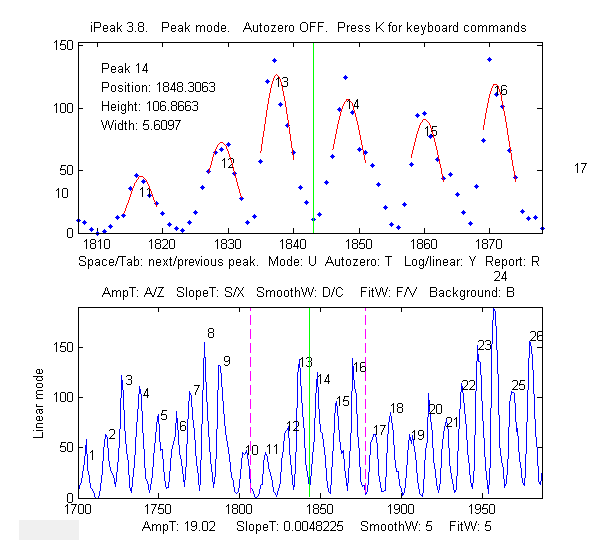 Peaks in annual sunspot numbers from 1700 to 2009 (download the
datafile
)*
.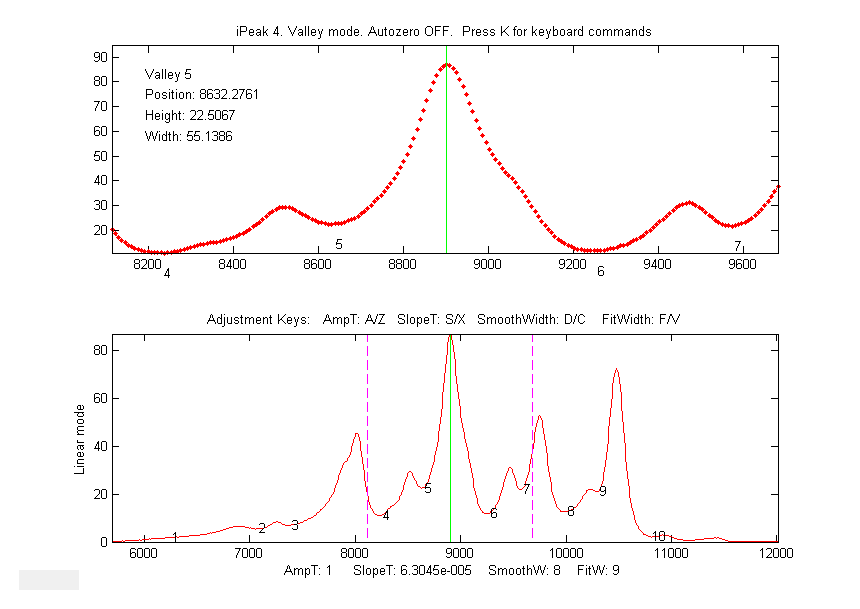 Press
U
key to switch between peak and valley mode.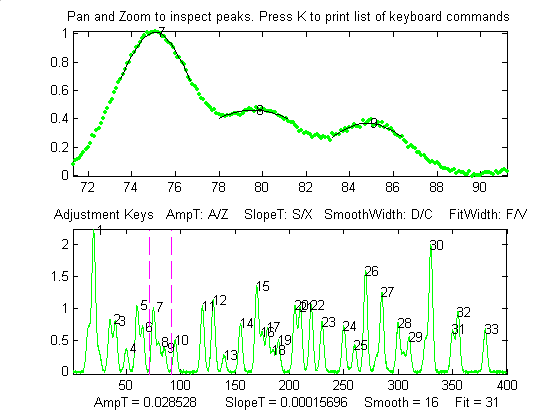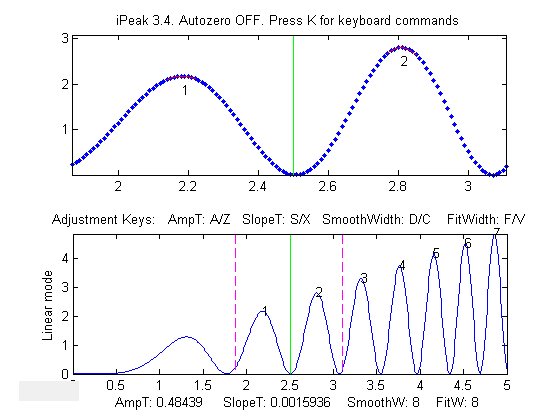 Example 2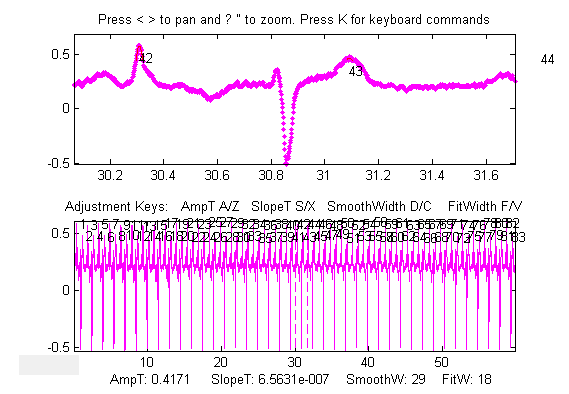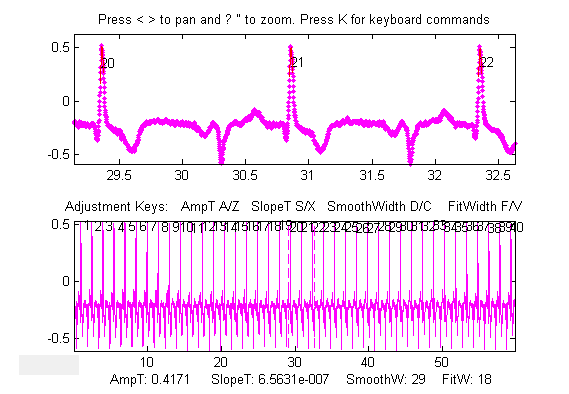 ECG data (normal and inverted)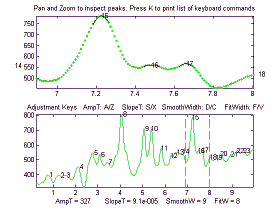 ---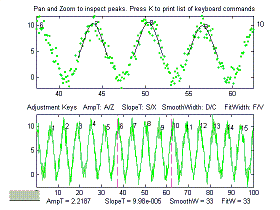 Example 3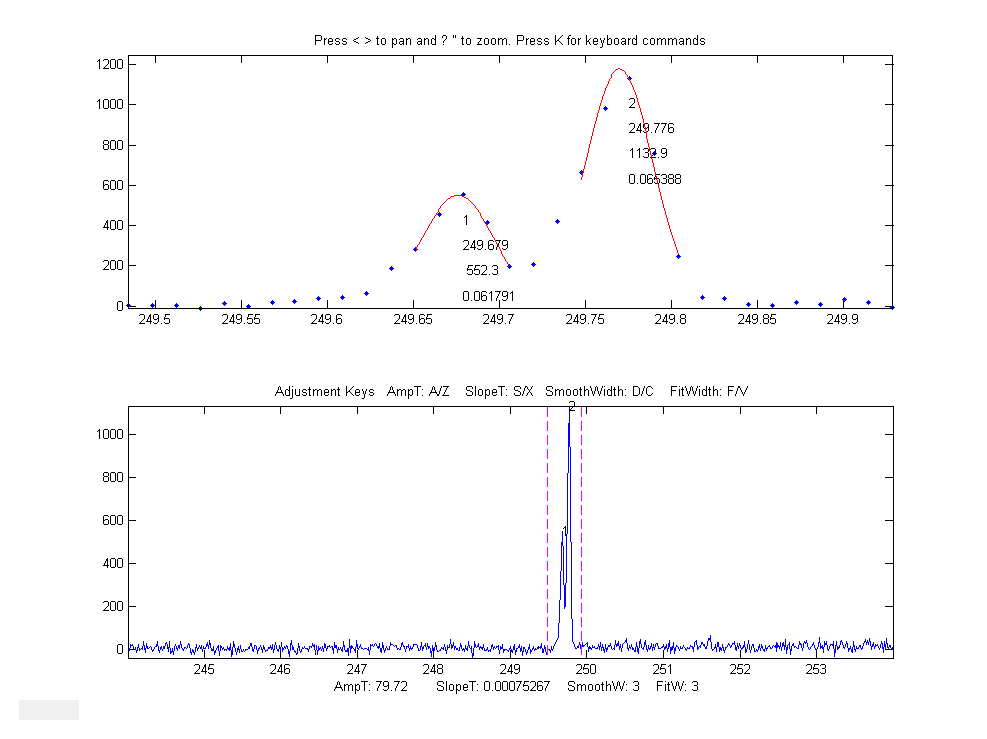 Example 5. Pressing 'L' toggles ON and OFF the peak labels in the upper window.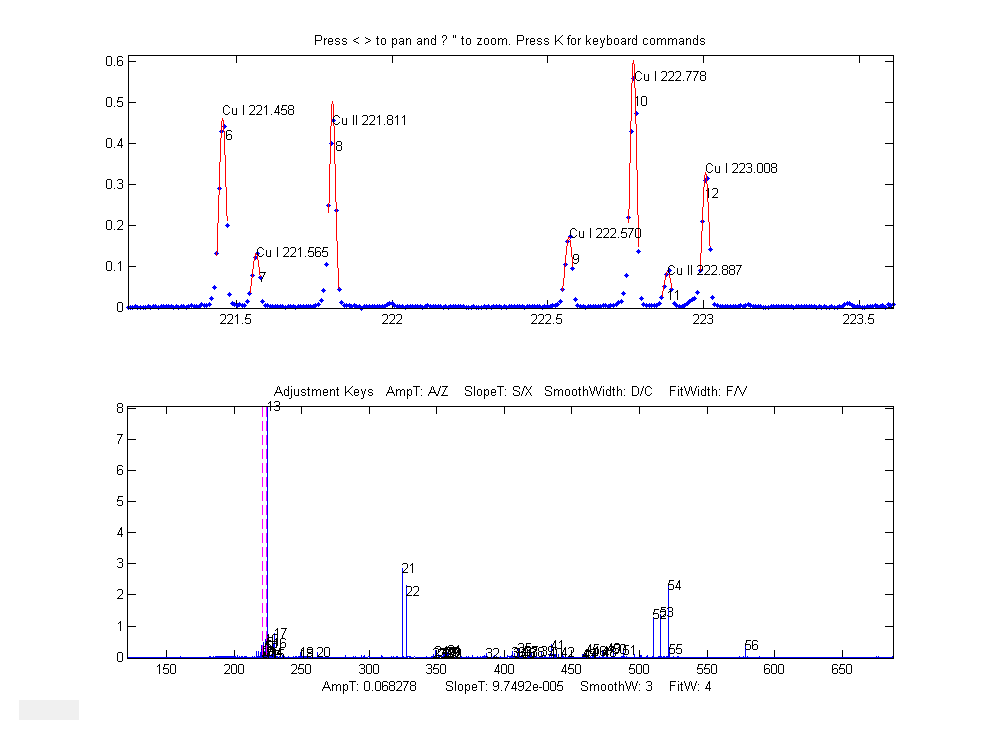 Example 8. The peak identification function applied to a high-resolution atomic spectrum.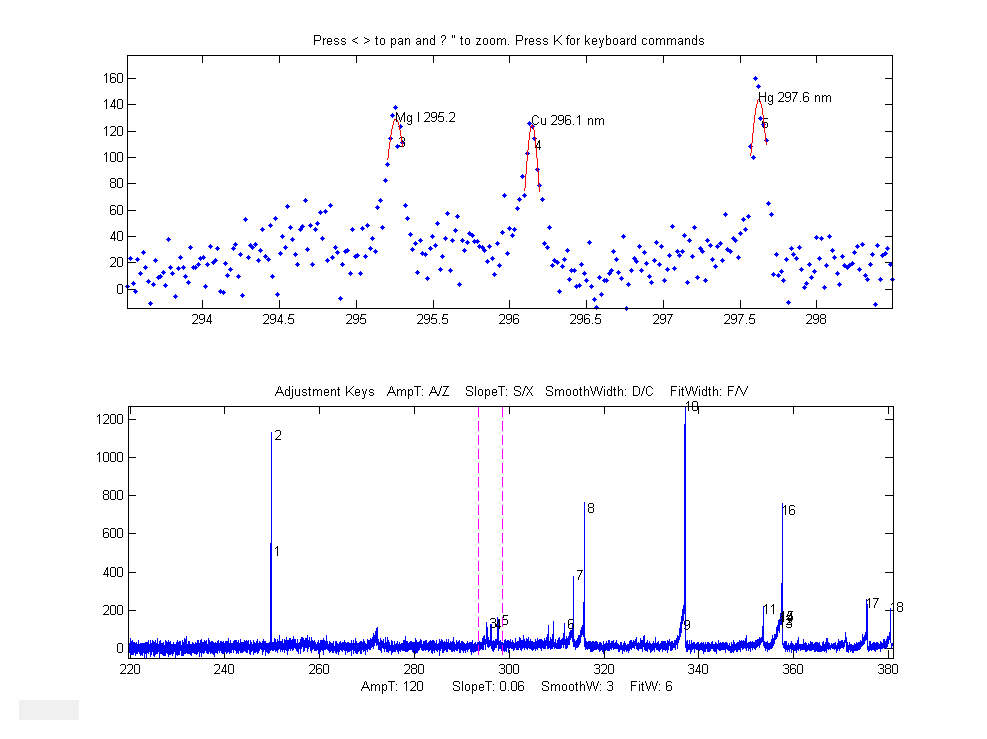 Example 8. Three peaks near 296 nm isolated and identified. Press the I key to display the peak ID names.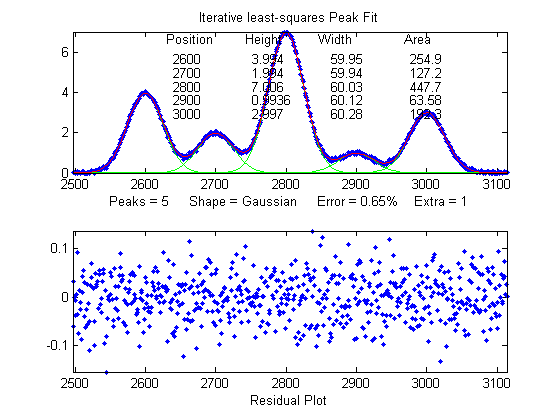 iPeak is a keyboard-operated Interactive Peak Finder for time series data, based on the "findpeaks.m" function, for Matlab only. (What's new in Version 5.3?) It accepts data in a single vector, a pair of vectors, or a matrix with the independent variable in the first column and the dependent variable in the second column:



Example

1:

One input argument;

data

in single vector


>>

y=cos(.1:.1:100);ipeak(y)





Example

2:

One input argument;

data in two columns of a matrix


>>

x=[0:.01:5]';y=x.*sin(x.^2).^2;M=

[x y];

ipeak(M)



Example

3: Two input arguments;

data in separate x and y vectors
>> x=[0:.1:100];y=(x.*sin(x)).^2;ipeak(x,y);



Example

4:

Additional input argument

(after the data) to control peak sensitivity.



>> x=[0:.1:100];y=5+5.*cos(x)+randn(size(x));ipeak(x,y,10);




or >> ipeak([x;y],10);


or >> ipeak(humps(0:.01:2),3)
or >> x=[0:.1:10];y=exp(-(x-5).^2);ipeak([x' y'],1)

The additional numeric argument

is an estimate of the ratio of the typical peak width to the length of the entire data record

(

PeakD)

. Small values detect fewer peaks; larger values

detect

more peaks. It effects only the

starting

values for the peak detection parameters. (This is just a quick way to set reasonable initial values of the peak detection parameters, rather than specifying each one individually as in the following example).

iPeak displays the entire signal in the lower half of the Figure window and an adjustable zoomed-in section in the upper window. Pan and zoom the portion in the upper window using the cursor arrow keys. (Press

Shift-C

to change the plot color.) Adjust the peak detection parameters AmpThreshold (

A/Z

keys), SlopeThreshold (

S/X

), SmoothWidth (

D/C

), FitWidth (

F/V

) so that it detects the desired peaks and ignores those that are too small, too broad, or too narrow to be of interest. Detected peaks are numbered from left to right. Press

P

to display the peak table of all the detected peaks (Peak #, Position, Height, Width, Area). Press

Shift-P

to save peak table as disc file. Press

U

to switch between peak and valley mode (version 3.7 and above). Note: in version 5.1 and later, to speed up the operation for signals over 100,000 points in length, the lower window is refreshed only when the number of detected peaks changes or if the

Enter

key is pressed. Press

K

to see all the keystroke commands.

Peak Summary Statistics. Version 5.3 (April, 2013) adds the

E

key command to print a table of summary statistics of

the peak intervals (the x-axis interval between adjacent detected peaks), heights, widths, and areas, listing

the maximum, minimum, average, and percent standard deviation, and displaying the

histograms

of

the peak intervals, heights, widths, and areas

in figure windows 2 through 5.



Peak Summary Statistics




15 peaks detected




Autozero OFF




Interval Height Width Area




Maximum 6.3795 10.5308 3.2354 34.943




Minimum 6.1649 9.7355 2.6671 29.9008




Mean 6.291 10.1559 3.0149 32.5771




% STD 0.91178 1.904 5.2584 4.3022





Example

5:

Six input arguments.

As above, but input arguments 3 to 6 directly specifies initial values of AmpThreshold (

AmpT

), SlopeThreshold (

SlopeT

), SmoothWidth (

SmoothW

), FitWidth (

FitW

) . PeakD is ignored in this case, so just type a '0' as the second argument after the data matrix).

>> ipeak(datamatrix,0,

.5,.0001,20,20

);

Keystrokes allow you to pan and zoom the upper window, to inspect each peak in detail if desired. You can set the initial values of pan and zoom in optional input arguments 7 ('xcenter') and 8 ('xrange'). See example 6 below.

The peak cloest to the center of the upper window is labeled in the upper left of the top window, and it peak position, height, and width are listed. The

Spacebar

/

Tab

keys jump to the next/previous detected peak and displays it in the upper window at the current zoom setting (use the up and down cursor arrow keys to adjust the zoom range). The

Y

key toggles between linear and log y-axis scale in the lower window (a log axis is good for inspecting signals with high dynamic range; it effects only the lower window display and has no effect on the peak detection or measurements).



Example

6:

Eight

input arguments.

As above, but

input arguments 7 and 8

specifiy the initial pan and zoom settings, 'xcenter' and 'xrange', respectively. In this example, the x-axis data are wavelengths in nanometers (nm), and the upper window zooms in on a very small 0.4 nm region centered on 249.7 nm. (These data, provided in the ZIP file, are from a high-resolution atomic spectrum).



>>

load ipeakdata.mat




>>

ipeak(Sample1,0,100,0.05,3,4,

249.7

,

0.4

);



Autozero mode.

The

T

key toggles the autozero mode off and on. When autozero is OFF, peak heights are measured relative to zero. (If the peaks are superimposed on a background, use the baseline subtract keys -

B

and

G

- first to subtract the background). When autozero is ON, peak heights are automatically measured relative to the local baseline on either side of the peak; use the zoom controls to isolate the peaks so that the signal returns to the local baseline between the peaks as displayed in the upper window. When autozero is ON, the peak heights, widths, and areas in the peak table (

R

or

P

keys) will be automatically corrected for the baseline. (Autozero OFF will give better results when the baseline is zero, or has been subtracted using the

B

key, even if the peaks are partly overlapped. Autozero ON will work best if the peaks are well separated so that the signal returns to the local baseline between the peaks. If the peaks are highly overlapped, or if they are not Gaussian in shape, the best results will be obtained by using the curve fitting function - the

N

or

M

keys).


Example

7:

Nine

input arguments.

As example 6, but the 9th input argument turns ON the autozero mode (equivalent to pressing the

T

key). If not specified, autozero is initially OFF.



>>

ipeak(Sample1,0,100,0.00,3,4,249.7,0.4,

1

);



Normal and Multiple Peak fitting

: The

N

key applies iterative curve fitting to the

detected peaks that are displayed in the upper window

(referred to here as "

N

ormal" curve fitting).

The use of the iterative least-squares function can result in more accurate peak parameter measurements that the normal

peak table (

R

or

P

keys

), especially if the peaks are non-Gaussian in shape or are highly overlapped.

If the peaks are superimposed on a background, turn on the Autozero mode (

T

key). Then use the pan and zoom keys to select a peak or a group of overlapping peaks in the upper window, with the signal returning all the way to the local baseline at the ends of the upper window. Make sure that AmpThreshold, SlopeThreshold, SmoothWidth are adjusted so that each peak is numbered once. Then press the

N

key, type a number for the desired peak shape at the prompt in the Command window and press

Enter

(1=Gaussian (default), 2=Lorentzian, 3=logistic, 4=Pearson, 5=exponentially broadened Gaussian; 6=equal-width Gaussians; 7=Equal-width Lorentzians; 8=exponentially broadened equal-width Gaussian, 9=exponential pulse, 10=sigmoid, 11=Fixed-width Gaussian, 12=Fixed-width Lorentzian; 13=Gaussian/Lorentzian blend; 14=bifurcated Gaussian, 15=bifurcated Lorentzian), then type in a number of repeat trial fits and press

Enter

(the default is 1; start with that and then increase if necessary). If you have selected a variable-shape peak (numbers 4, 5, 8 ,13, 14, or 15), the program will ask you to type in a number that controls the shape ("extra" in the peakfit input arguments). The program will then perform the fit, display the results graphically in Figure window 2, and print out a table of results in the command window, e.g.:



Peak shape (1-8): 2




Number of trials: 1





Least-squares fit to Lorentzian peak model




Fitting Error 1.1581e-006%




Peak# Position Height Width Area




1 100 1 50 71.652




2 350 1 100 146.13




3 700 1 200 267.77



There is also a "

M

ultiple" peak fit function (

M

key) that will attempt to apply iterative curve fitting to

all

the detected peaks in the signal simultaneously

. Before using this function, it's best to turn off the Autozero (

T

key) and use the multi-segment baseline correction function (

B

key) to remove the background (because the autozero function will probably not be able to subtract the baseline from the entire signal). Then press

M

and proceed as for the normal curve fit. A multiple curve fit may take a minute or so to complete if the number of peaks is large, possibly longer than the

N

ormal curve fitting function on each group of peaks separately. Make sure all the peaks are detected and numbered before activating this function, because it depends on the peak table for the number of peaks and the starting values, and it will fit only those peaks that it has already located and numbered.

The

N

and

M

key fitting functions perform non-linear iterative curve fitting using the peakfit.m function. The number of peaks and the starting values of peak positions and widths for the curve fit function are automatically supplied by the the findpeaks function, so it is essential that the peak detection variables in iPeak be adjust so that all the peaks in the selected region are detected and numbered once. (For more flexible curve fitting, use ipf.m, which allows manual optimization of peak groupings and start positions).



Note 1

: If the peaks are too overlapped to be detected and numbered separately, try pressing the

H

key to activate the sharpen function before pressing

M

(version 4.0 and above only).



Note 2

: If you plan to use a variable-shape peak (numbers 4, 5, 8 ,13, 14, or 15) for the

M

ultiple peak fit, it's a good idea to obtain a reasonable value for the requested "extra" shape parameter by performing a

N

ormal peak fit on an isolated single peak (or small group of partly-overlapping peaks) of the same shape, then use that value for the Multiple curve fit of the entire signal.



Note 3

: Although the peak

widths

can vary from peak to peak, the curve fit routines assume that the peak

shape

is the same for all peaks in one fitting operation, so if the peak shape varies accross the signal, use the

N

ormal peak fit to fit each section with a different shape rather than the

M

ultiple peak fit.



Peak identification.

There is an optional "peak identification" function if optional input arguments 9 ('MaxError'), 10 ('Positions'), and 11 ('Names') are included. The "

I

" key toggles this function ON and OFF. This function compares the found peak positions (maximum x-values) to a database of known peaks, in the form of an array of known peak maximum positions ('Positions') and matching cell array of names ('Names'). If the position of a found peak in the signal is closer to one of the known peaks by less than the specified maximun error ('MaxError'), then that peak is considered a match and its name is displayed next to the peak in the upper window. When when the '

O

' key is pressed (the letter 'O'), the peak positions, names, errors, and amplitudes are printed out in a table in the command window.





Example

8:

Eleven

input arguments.

As above, but also specifies 'MaxError', 'Positions', and 'Names' in optional input arguments 9, 10, and 11, for peak identification function. Pressing the '

I

' key toggles off and on the peak identification labels in the upper window.

These data

(provided in the ZIP file) are from a high-resolution atomic spectrum (x-axis in nanometers).



>>

load

ipeakdata

.mat




>>

ipeak(Sample1,0,100,0.05,3,6,296,5,0.1,Positions,Names);



Pressing "

O

"

prints the peak positions, names, errors, and amplitudes in a table in the command window.


Name Position Error Amplitude


'Mg I 295.2' [295.2] [0.058545] [129.27]




'Cu 296.1 nm' [296.1] [0.045368] [124.6]


'Hg 297.6 nm' [297.6] [0.023142] [143.95]

Note: The ZIP file contains the latest version of the iPeak function as well as some sample data to demonstrate peak identification (Example 8). Obviously for your own applications, it's up to you to provide your own array of known peak maximum positions ('Positions') and matching cell array of names ('Names') for your particular types of signals.



Keyboard Controls:





Pan signal left and right...Coarse pan:

<

or

>


Fine pan: left or right cursor arrow keys


Nudge

one point left or right:

[

and

]


Zoom in and out.............Coarse zoom:

/

or

'


Fine zoom: up or down cursor arrow keys
Resets pan and zoom.........

ESC


Refresh entire plot.........

Enter

(Updates cursor position in lower plot)
Change plot color...........

Shift-C

(cycles through standard colors)
Adjust AmpThreshold.........

A

,

Z

(Larger values ignore short peaks)
Adjust SlopeThreshold.......

S,X

(Larger values ignore broad peaks)
Adjust SmoothWidth..........

D,C

(Larger values ignore sharp peaks}
Adjust FitWidth.............

F

,

V

(Adjust to cover just top part of peaks)
Toggle sharpen mode ........

H

Helps detect overlapped peaks.
Baseline correction.........

B

, then click baseline at multiple points
Restore original signal.....

G

to cancel previous background subtraction
Invert signal...............

-

Invert (negate) the signal (flip + and -)
Set minimum to zero.........

0

(Zero) Sets minimum signal to zero
Toggle log y mode OFF/ON....

Y

Plot log Y axis on lower graph
Toggle autozero OFF/ON......

T

Auto background subtraction on upper graph
Toggle valley mode OFF/ON...

U

Switch to valley mode
Print peak table............

P

Prints Peak #, Position, Height, Width
Save peak table.............

Shift-P

Saves peak table as disc file
Step through peaks..........

Space

/

Tab

Jumps to next/previous peak
Normal peak fit.............

N

Fit peaks in upper window with peakfit.m
Multiple peak fit...........

M

Fit all peaks in signal with peakfit.m
Print keyboard commands.....

K

Prints this list
Print findpeaks arguments...

Q

Prints findpeaks function with arguments.
Print ipeak arguments.......

W

Prints ipeak function with all arguments.
Print report................

R

Prints Peak table and parameters
Print peak statistics.......E prints mean, std of peak intervals, heights, etc.
Peak labels ON/OFF.........

L

Label all peaks detected in upper window.
Peak ID ON/OFF..............

I

Identifies closest peaks in 'Names' database.
Print peak IDs..............

O

Prints table of peaks IDs


*Sunspot data downloaded from NOAA: ftp://ftp.ngdc.noaa.gov/STP/SOLAR_DATA/SUNSPOT_NUMBERS/INTERNATIONAL/yearly/YEARLY.PLT