Boston Globe Forward
As a corollary to the previous piece on The Washington Post I wanted to write a short post on the paper I grew up with -- the Boston Globe. I wanted to write something about the first headline I can remember reading. It was first time I can recall reading the front page at all (although I might have the year before when the Red Sox won the Pennant). Regardless it was first time I did not auto default first to the comics which I knew could be found by laying the paper face down on the floor and opening up the very last page.
This is headline I remember; from the Fall of 1968 only days before the election that year.
Morning news November 1 1968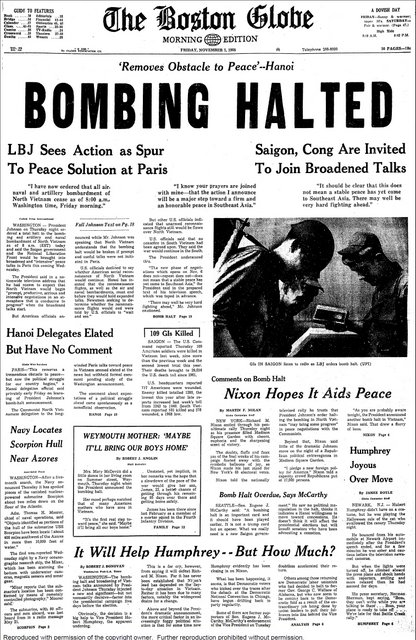 I would've been in the fourth grade at the time, having just turned nine a few weeks before. I remember where I read this too. By the back door of our house in Holliston adjacent to the basement steps where the late season morning sun would create a temporary warm bright greenhouse-like space with plexiglass panel of the screen door (switched out the eponymous screen a New England month or more earlier. A large dark headline, but it was a dramatic moment, in US history and in the Vietnam War. When my nephew for a class project prompted me to remember something from the sixties I thought of this. The next day I started a search for it to see how clean a memory it was. It didn't really take too long, at that, to root it out of the Internet from the recollection I had of it. An October surprise cast on a brutally divided public opinion against an unpopular and morally suspect war.

At the time it brought me up sharp. I stopped and thought about the world I was living in, somewhat bewildered. I was an inattentive youth, for sure, this made that clear. I suppose I didn't believe it was my job at the time to care or worry about adults. Their world was a labyrinth, an impenetrable mystery. The quality of the resolution I made at the time was simply to mark it, and pay more attention from then on until things like this could be comprehended. Or at least classified. I knew vaguely of a Vietnam difficulty but this was a war and I was confused. War was a specific thing, it meant World War Two, a thing or things past. Now there were others, going on now. In places I knew nothing about.

It is a common and dangerous belief that the moment one is living through is uncommonly dire and troubled. That in these times there are barricades to be manned and fronts to be marched to, calling for extraordinary measures and sacrifices. Mostly it is merely the unfortunate ordinary churn of the ambitious. In any regard from that day forward I read the front page of the Globe every day, and later any paper in whose city I found myself.



8:15:25 AM

;;
---