Archaeoastronomy & Ethnoastronomy News
Archive
ESSAYS FROM ARCHAEOASTRONOMY & ETHNOASTRONOMY NEWS, THE QUARTERLY BULLETIN OF THE CENTER FOR ARCHAEOASTRONOMY
---
Number 30 December Solstice 1998
ESSAY | NEWS NOTES | PUBLICATIONS AND WEB SITES
---
SUN MARKER: A LIGHT AND SHADOW LABORATORY FOR ARCHAEOASTRONOMERS
by Angela M. Rogers, Chaco Culture National Historical Park AND
Von Del Chamberlain, Utah Valley State College
On the 1998 June solstice, a sculpture of special significance to archaeoastronomers was dedicated at Edge of the Cedars State Park, located in Blanding, Utah. Named Sun Marker, this work of art-science is based on studies of the interaction s of light and shadow with rock art. In the opinion of its creator, Joe Pachak, Sun Marker is more a laboratory than it is a completed work of art, and no one is researching its interactions more thoroughly than Pachak himself.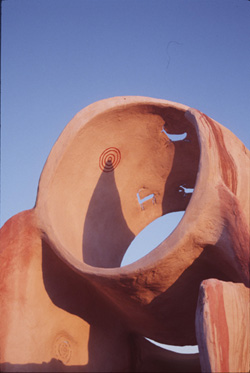 Furthermore, Sun Marker is a tool that anyone interested in rock art light and shadow interactions may readily use. Pachak crafted a sophisticated instrument and designed it with great precision, so that intentional interactions will occur at specific times of day and on specific days of the year. The basic structure of his sculpture describes a flat spiral oriented toward the north celestial pole. Every shadow-casting line and light-emitting channel has been designed to create certain interactions. Carved into Sun Marker's surfaces are figures of spirals, animals, tracks of animals, and other features that permit sunlight and moonlight to shine through the carved spaces, casting images that travel across other surfaces. Parts of the structure cast shadows that modulate throughout each day and vary throughout the year. These effects can be enjoyed at any time of day, every day of the year. On the equinox and solstice dates, however, particular intentional interactions occur among the carved and painted symbols and the sunlight. Pachak continues to observe his device in action, and he adds features to mark the positions of the Sun on days of special interest.
The authors were privileged to join with others observing Sun Marker on the afternoon and early evening of the June 1998 solstice. At approximately 5:35 p.m. MDT, observers became excited when a point of light, passing between elements of the sculpture, appeared at the base of a painted spiral. The point developed into a narrow illuminated shaft and moved up through the turns of the spiral, reminding those who watched of the famous Sun Dagger on Fajada Butte in Chaco Canyon, New Mexico. Suddenly the brilliant shaft dashed across several of the spiral's turns and shot upward through the center, eliciting a joyful shout from many observers. After fully developing into a line bisecting the spiral, the light shaft broadened and moved off to the right toward a painted mountain sheep. There it narrowed and shortened until it resolved into a thin arrow of light piercing the sheep. The arrow continued to shorten until it appeared to vanish into the sheep's shoulder. Although the entire display evolved over more than an hour, it was mesmerizing. What a show!
Continuing to watch, we noted that a shadow on the upper portion of Sun Marker moved across a painted set of concentric circles, at one point nicely bisecting them. Then, as the Sun moved lower in the sky, a shadow of the Bear's Ears (a feature on the western horizon that is replicated on Sun Marker for other interactions not described here) moved upward toward a carved spiral. The two shadow features just touched at sunset.
Simultaneously, as the Sun moved toward the horizon, a pointed shadow moved upward into the concentric circles painted on the upper portion of the sculpture. The point of the shadow reached the very center of the spiral just as the Sun set. Just before the shadow image blurred, a child next to us said, "Now it looks like it is painted on." This perfectly described the sharp shadow cast by the final light from the setting Sun.
Mr. Pachak intended many of the interactions of light, shadow and rock art icons described above, as he carefully engineered the work. Other manifestations, however, were serendipitous. The fact that both the planned and the coincidental phenomena so vividly resemble research observations currently being reported prompted us to focus our own research on rock art light and shadow interaction. Joe Pachak agreed to allow us to join him in using Sun Marker for "experimental archaeoastronomy." The three of us have submitted the abstract for a paper we hope to present at the Oxford VI conference in June 1999. We shall attempt to derive criteria for evaluating other rock art light and shadow interactions by carefully observing Sun Marker. We expect to report our results in Archaeoastronomy in the future.
Illustration: When Joe Pachak's Sun Marker is viewed from the south during the June solstice sunset, the shadow of the Bear's Ears touches the carved spiral at bottom left. Note as well, the shadow touching the center of concentric circles at the top of the sculpture.
SEAC98: The Dublin Institute for Advanced Studies (DIAS) generously hosted the 1998 meeting of the European Society for Astronomy in Culture (SEAC98) in the delightful surroundings of Trinity College, Dublin on 31 August-2 September 1998. The 42 participants were drawn from Mexico, the US, Canada, Ireland, Britain, Spain, Germany, Sweden, Poland, Lithuania, and Russia. Additional video and poster contributions arrived from Hungary, Sweden and Georgia.
Opening addresses were delivered by George Eogan and by Clive Ruggles. Eogan is a professor of archaeology at University College, Dublin, and director of the Discovery Programme, which is conducting several key long-term research projects in Irish archaeology. Ruggles, who at the time was completing a senior visiting research fellowship at the Institute of Irish Studies, Queen's University, Belfast, represented SEAC.
Contributed papers covered topics ranging from the theoretical foundations of archaeoastronomy to fieldwork methodologies; from a Paleolithic cave in Tenerife to contemporary folk traditions in Lithuania; and from Neolithic monuments in Ireland and Britain to the orientations of Minoan and Mycenean buildings in Crete. Of particular interest were four excellent keynote addresses. The first was a light-hearted talk on "The Beliefs and Myths of the Early Irish," by Fergus Kelly, senior professor of Celtic Studies at DIAS. Gabriel Cooney, of the Department of Archaeology at University College, Dublin, opened a morning of papers with an Irish focus by delivering a background talk on "Reading a Landscape Manuscript: Time and Place in Prehistoric Ireland." The third day saw a welcome appearance by Aubrey Burl, author of Stone Circles of the British Isles and numerous other books on British, Irish and Breton stone monuments. His talk was titled "Sightlines out of Sight: Science or Symbolism at Woodhenge?" On the final afternoon, Dan McCarthy of Trinity College, Dublin, gave a stimulating talk on "Astronomical Observations Recorded in the Irish Annals."
During a mid-conference excursion to the Boyne valley, we crowded into Newgrange to see the simulated sunrise and were lucky enough to receive a detailed guided tour of Knowth from George Eogan, its excavator. The post-conference excursion to County Cork also proved most enjoyable. In addition to visiting Drombeg and Bohonagh axial stone circles, Gurranes stone row and Altar wedge tomb, we also sampled various aspects of Irish rural life. We were blessed with exceptional weather, narrowly escaping the arrival of the remnants of Hurricane Danielle.
From a SEAC meeting past -- Smolyan, Bulgaria, 1993-- a collection of papers has been published under the title Astronomical Traditions in Past Cultures, edited by Vesselina Koleva and Dimiter. It is available from Ocarina Books Ltd., at the bargain price of $8 (£5). Orders should be sent with payment, to Ocarina Books Ltd., 28 The Croft, Stroud Green, Bognor Regis, W. Sussex, PO21 5TH, UK. Dollar checks drawn on a US bank, or Euro- or British -cheques drawn in pounds sterling, are acceptable. For shipping and handling (surface mail or within Europe) please add $4 (£2.50) per book. For airmail to the US add $10 (£6) per book.
Oxford III anyone? As of autumn 1998, the two books from the Oxford III International Conference on Archaeoastronomy, published in 1993, are available together as a single package for the first time. A landmark in world archaeoastronomy, the two Oxford 3 conference volumes continue to be widely cited. Astronomies and Cultures, edited by Clive Ruggles and Nicholas Saunders, and published by University Press of Colorado, contains ten thematic articles illustrating the broad scope, diversity and cultural significance of contemporary studies in archaeoastronomy. Archaeoastronomy in the 1990s, edited by Clive Ruggles, and published by Group D Publications, Loughborough, UK, contains 31 shorter contributions that describe new theories, techniques, and results of field research. The volumes are offered for $25 (£15) each or $40 (£25) the pair, which is less than half of the combined publishers' prices. Shipping and handling are additional. For S&H (surface mail or within Europe) add $7 (£4) per book or $12 (£7) the pair. For airmail to the US add $18 (£10) per book or $35 (£20) for the pair.
Astronomy in Prehistoric Britain in Ireland, Clive Ruggles's long-awaited book, is finally due for publication in March next year, and will be in Yale's Spring 1999 list. The second edition of Aubrey Burl's Stone Circles of the British Isles, first published by Yale in 1976, is also due in the not-too-distant future.
Intijalsu has designed and produced the first itinerant exhibit about archaeoastronomy in Chile. It explains the origin of indigenous astronomy and astronomers. In addition to appearing in many public settings, the exhibit will visit secondary schools (March-August 99) in a tour coordinated by the Chilean Ministry of Education. A videotape and an instruction booklet are provided to teachers so that they may learn the basics on their own. Intijalsu will also present 12 practical workshops about archaeoastronomy at the 19th World Scout Jamboree held in Chile (26 December 1998-5 January 1999). For more information on, see the web site: http://www.intijalsu.cv.cl.
"Winter Solstice Sunset at Maes Howe" (Orkney, Scotland, UK) will again be available on the Internet. As a continuation of last year's successful project, winter solstice sunset as seen from within a 5,000 year old chambered cairn will be broadcast over the 'Net. This chambered cairn is the most spectacular of many in Orkney, situated in Stenness on the Orkney mainland.
To provide viewers with an appreciation for the sophistication of this structure, Dutch archaeoastronomer Victor Reijs is studying the alignments of the passage and chamber in more detail. After a few visits, he decided to install a camera inside the chamber, so that the behavior of the sun could be recorded and analyzed in a more scientific way. (Last year, this unique information was transported by means of the Internet and seen by more than 10.000 people around the globe.) This year, the light of the winter solstice sunset will again be broadcast in real time from the oldest building connected to the worldwide ISDN and IP network. Broadcasts are scheduled from 2 December 1998 through 31 January 1999, everyday between 14:30 and 15:30 GMT. The schedule is posted at http://maeshowe.mypage.org/. This project will continue, of course, during the millennium festivities in 1999.
"Winter Solstice Sunset at Maes Howe" is sponsored generously by SURFnet (providing ISDN router and broadcasting services),the University of Utrecht's Department of Physics (wirelessLAN's), and Arcane Technologies (PC). The project is executed with the help of Historic Scotland (caretaker of Maes Howe on behalf of the Secretary of State for Scotland) and Charles Tait (photographer and publisher based in Orkney). Reijs posts online information at http://geniet.mypage.org/.

Some Sources for African Ethnoastronomy:
In our continuing effort to present source materials for different regions and cultures, we prevailed upon Keith Snedegar to provide titles in African ethnoastronomy. He cautions us that this list is inclined toward Southern Africa, and is by no means exhaustive.
Atkins, Keletso E. 1993 The Moon is Dead! Give Us Our Money! (Portsmouth, NH/London: Heinemann/James Curie).

Clegg, Andrew 1986 "Some Aspects of Tswana Cosmology", Botswana Notes & Records 18, 33-37. Results of a survey at the home villages of students at the University of Botswana.

Gray, John 1955 "Nairuzi or siku ya mwaka", Tanganyika Notes & Records 38, 1-22. Concerns the use of the Persian solar calendar by the Swahili.

Langercrantz, Sture 1964 "Traditional Beliefs in Africa Concerning Meteors, Comets and Shooting Stars," in Festschrift fuer Ad. (E. Jensen: Munich). A continent-wide survey.

Galaal, Muusa H.I. 1992 "Stars, Seasons Weather in Somali Pastoral Tradition " (Niamey). An extraordinary monograph on Somali oral traditions.

Marshall, Lorna 1975 "Two Ju/wa Constellations", Botswana Notes & Records 7, 153-159. Star lore of the !Xu Bushmen.

1986 "Some Bushman Star Lore," in Contemporary Studies in Khoisan 2, Rainer Vossen and Klaus Keuthmann, eds. (Hamburg: Helmut Buske Verlag) pp.169-204.

Obenga, Theophile. 1987 "Notes sur les connaissances astronomiques bantu", MUNTU 6, 63-78. Star lore from various groups in the Congo.

Roberts, Allen F. 1981 "Passage Stellified: Speculation upon Archaeo- Astronomy in Southeastern Zaire," Archaeoastronomy 4 (4), 27-34. Concentrates on the Tabwe, as does the next item.

Roberts, Allen F. 1982 "Comets Importing Change of Times and States: Ephemerae and Process among the Tabwe of Zaire," American ethnologist 36, 712-729.

Snedegar, Keith. 1995 "Stars and Seasons in Southern Africa", Vistas in Astronomy 39, 529-538.

1997 "Ikwezi is the Morning Star", Mercury 26 (6), 12-15.

1998 "First Fruits Celebrations among the Nguni Peoples of Southern Africa: an Ethnoastronomical Interpretation", Archaeoastronomy 23, (Journal for the History of Astronomy xxix) pp. S31-S38.

Starr, Eileen M. 1990 "Sub-Saharan African Astronomical Mythology", The Planetarian 19, 8-18. Somewhat misleading.

Turton, D. and Ruggles, C. 1978 "Agreeing to Disagree: The Measurement of Duration in a Southwestern Ethiopian Community," Current Anthropology 19 (3), 585-593. The most cited article on African ethnoastronomy.

In addition, the Encyclopedia of the History of Science, Technology and Medicine in Non-western Cultures (1997) contains a few relevant articles. Be cautious, however, of African signs of the zodiac by Mutwa Credo (Cape Town: Struik, 1997). It is a very attractive illustrated paperback, but the stories of the zodiac were actually created by Mutwa himself and having few points of contact with African tradition.

Other Publications: (If you know of a recent publication of interest that we have missed, please let us know, and include all information necessary for our readers to be able to find the article)
Martlew, R.D. & Ruggles, C.L.N. 1996 "Ritual and Landscape on the West Coast of Scotland: An Investigation of the Stone Rows of Northern Mull," Proceedings of the Prehistoric Society 62, 117-31.

McNally, D. and Ruggles, C.L.N. 1997 "The Minor Standstill of the Moon and Stonehenge," Astronomy and Geophysics 38, 30-1.

Ruggles, C.L.N. 1994 "The Stone Rows of South-west Ireland: A First Reconnaissance," Archaeoastronomy 19,(supplement to Journal for the History of Astronomy) pp. S1-20.

1996 "Archaeoastronomy in Europe," in Astronomy Before the Telescope, Christopher Walker, ed., (British Museum Press, London) pp. 15-27.

1996 "Summary of the RAS Specialist Discussion Meeting on Current Issues in Archaeoastronomy," The Observatory 116, 278-85.

1996 "Stone rows of three or more stones in South-west Ireland," Archaeoastronomy 21 (supplement to Journal for the History of Astronomy 27), pp. S55-71.

1997 "Astronomy and Stonehenge," in Science and Stonehenge (Proceedings of the British Academy 92), Barry Cunliffe and Colin Renfrew, eds. (OUP, Oxford, UK) pp. 203-29.

1997 "Whose Equinox?" Archaeoastronomy 22 (supplement to Journal for the History of Astronomy 28), pp. S45-50.

1998 "Ritual Astronomy in the Neolithic and Bronze Age British Isles: Patterns of Continuity and Change," in Prehistoric Ritual and Religion: Essays in Honour of Aubrey Burl, Alex Gibson and Derek Simpson, eds. (Sutton Publishing, Stroud, UK) pp. 203-8.

Ruggles, C.L.N. & Medyckyj-Scott, D.J. 1996 "Site Location, Landscape Visibility and Symbolic Astronomy: A Scottish Case Study," in New Methods, Old Problems: Geographical Information Systems in Modern Archaeological Research, Herbert D.G. Maschner, ed. (Carbondale, Illinois: Center for Archaeological Investigations Occasional Paper no. 23), pp. 127-46.

Ruggles, C.L.N. and Hoskin, M.A. 1997 "Astronomy before History," in The Cambridge Illustrated History of Astronomy, M.A. Hoskin, ed (Cambridge University Press, Cambridge, UK), pp. 2-21.