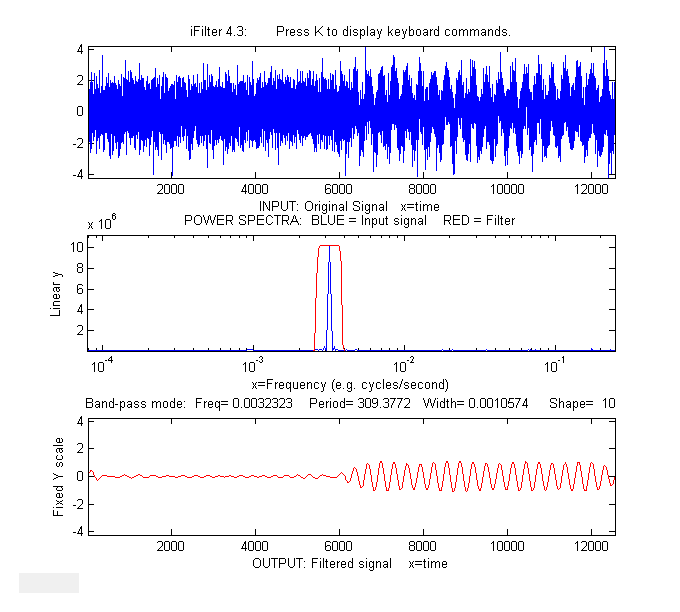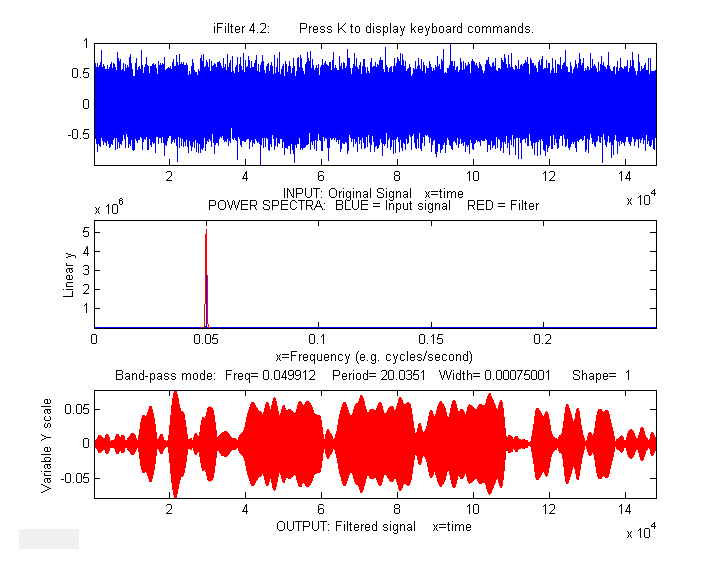 The custom Matlab/Octave function FouFilter.m is a more flexible Fourier filter that can serve as a lowpass, highpass, bandpass, or bandreject (notch) filter with variable cut-off rate. Has the form ry= FouFilter(y, samplingtime, centerfrequency, frequencywidth, shape, mode), where y is the time-series signal vector, 'samplingtime' is the total duration of sampled signal in sec, millisec, or microsec; 'centerfrequency' and 'frequencywidth' are the center frequency and width of the filter in Hz, KHz, or MHz, respectively; 'Shape' determines the sharpness of the cut-off. If shape = 1, the filter is Gaussian; as shape increases the filter shape becomes more and more rectangular. Set mode = 0 for band-pass filter, mode = 1 for band-reject (notch) filter. FouFilter returns the filtered signal in ry. It can handle signals of virtually any length, limited only by the memory in your computer. Here's an example
xx=[0:.001:2*pi]';
signal=sin(20*xx);
noise=randn(size(xx));
x=1:2*length(xx)';
y=[noise;signal+noise]; % sine wave is added halfway through.
SignalToNoiseRatio=std(signal)/std(noise)
FilteredSignal=foufilter(y',1,20,100,5,0);
subplot(2,1,1)
plot(x,y);
title('Sine wave is added halfway through.')
subplot(2,1,2)
plot(x,FilteredSignal);
title('Signal filtered with FouFilter.m')
---

iFilter 4.3, an Interactive Fourier Filter for Matlab, allows you to select from six filter modes ('band-pass', 'low-pass', 'high-pass', 'band-reject (notch), 'comb pass', and 'comb notch'). (In the comb modes, the filter has multiple bands located at frequencies 1, 2, 3, 4... times the center frequency, each with the same controllable width and shape). In each of these filter modes, you can interactively adjust the filter parameters (center frequency, filter width, and cut-off rate) while observing the effect on the signal output dynamically. This is a self-contained Matlab function that does not require any toolboxes or add-on functions. Does not work in Octave. Click here to view or download.

MorseCode.m uses iFilter to demonstrate the abilities and limitations of Fourier filtering. It creates a pulsed fixed frequency (0.05) sine wave that spells out "SOS" in Morse code (dit-dit-dit/dah-dah-dah/dit-dit-dit), adds random white noise so that the SNR is very poor (about 0.1 in this example). The white noise has a frequency spectrum that is spread out over the entire range of frequencies; the signal itself is concentrated mostly at a fixed frequency (0.05) but the presence of the Morse Code pulses spreads out its spectrum over a narrow frequency range of about 0.0004. This suggests that a Fourier bandpass filter tuned to the signal frequency might be able to isolate the signal from the noise. As the bandwidth is reduced, the signal-to-noise ratio improves and the signal begins to emerges from the noise until it becomes clear, but if the bandwidth is too narrow, the step response time is too slow to give distinct "dits" and "dahs". The step response time is inversely proportional to the bandwidth. (Use the ? and " keys to adjust the bandwidth. Press 'P' or the Spacebar to hear the sound). You can actually hear that sine wave component better than you can see it in the waveform plot (upper panel), because the ear works like a spectrum analyzer, with separate nerve endings assigned to to specific frequencies, whereas the eye analyzes the graph spatially, looking at the overall amplitude and not at individual frequencies.
Watch an mp4 video of this script in operation, with sound. Also on YouTube.