Laguna Indians Pottery, by Lindsey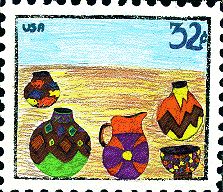 This stamp commemorates the Laguna Southwest Indians. The Laguna Indians used their pots to store food and water. They mixed clay and sand to make for their pottery. They placed rope-like coils on the sides to build them up. The Laguna Southwest Indians used bright colors in their art work. Southwest pottery was among the best made by American Indians in North America.
Click here to return to the Index.