Corn Planter, by Genevieve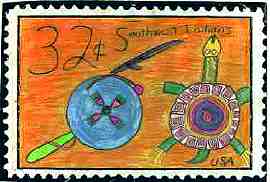 My stamp shows a corn plower, which the farmers of the Southwest Indian tribe used to plant the corn. It is made out of a clay-like material. On the bottom left there is a gourd rattle that the Southwest Indians used in ceremonies that they held. The gourd rattles make music. The colors in the gourd rattle are made from flowers. Then on the bottom right there is a turtle design that the Southwest Indians used for designing pottery and other things like that. The colors I used come from nature.
Click here to return to the Index.