Pottery Was So Special, by Emily G.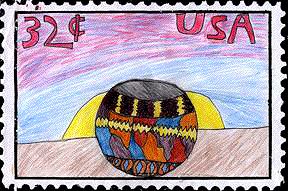 The Southwest Indians were famous for their pottery. The pots were used for food and water storage. They were decorated with black, dark reds, and dark oranges, otherwise brown. They used these colors because they were the colors of earth and they were also sacred. The mixture for the pottery is of clay and sand. They used a coil like method to build up the sides of the pottery. Sometimes the Southwest Indians used turquoise because it was also sacred color.
Click here to return to the Index.