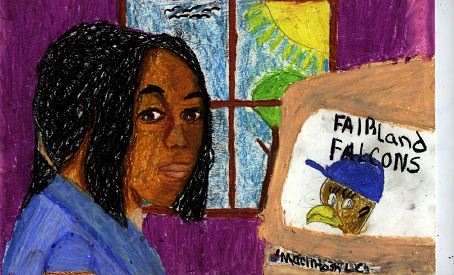 Self Portrait, by Tina. Oil pastel on paper, 11" x 14"



My name is Tina. I am 9 years old. I was born on June 15, 1986. I am black with hazel brown eyes, and brown hair. I like to draw, dance, sing, play, write, watch TV, eat, and sleep. I am from Zimbubwe. What I am doing is working on the computer and what I am doing on the computer is I am just drawing our school mascot and writing about it. The reason I am doing this is because you can do lots of fun and interesting things. My sister Tsitsi goes to the University of Maryland. You might find her in your class. My mom is a computer specialist. She goes to different places to talk about computers and what they do. My mom also works at home. She has her won office in the basement. That's all about the people in the house. Oh, they both can speak about 4 languages.
---
Here is the photograph that I used as a model for my portrait.

Click on the speaker icon at the left to hear me.