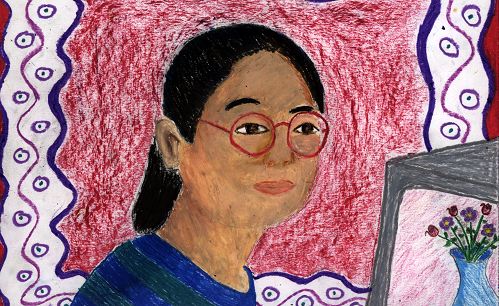 Self Portrait, by Maxine. Oil pastel on paper, 11" x 14"



My name is Maxine. I am 9 years old. I was born on March 2, 1986. I am chinese, wear glasses, have black hair, brown eyes and I am 4 feet and 6 inches tall. I have 4 people in my family and they are my mom, my dad, my sister Mayee and me. My sister is in 8th grade and she goes to Banneker middle school. I am drawing on the computer because I love drawing and because it's faster if you draw it on the computer then drawing it by hand. My sister, my dad and my teacher Mrs.O'Haver got me interested in drawing and working on the computer. I also love watching TV, riding my bike, making jewelery out of my beads, roller blading, playing board games and reading interesting books. My favorite foods are pizza, lasanga, maccoroni and cheese, fried chicken, red bean rice, noodles, mashed potatoes and fried rice.
---
Here is the photograph that I used as a model for my portrait.

Click on the speaker icon at the left to hear me.