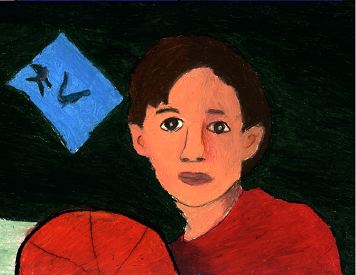 Self Portrait, by Greg. Oil pastel on paper, 11" x 14"



Hey my name is Gregory. I was born on August 24, in 1986. I am 8 years old. My favorite sport is football. In my spare time I go roller blading. I have a 1 speed bike but it can go very fast. One of my hobbies is playing basketball. My favorite food is pizza. I am about 4 feet tall. I wear glasses and I am pretty fast.
---
Here is the photograph that I used as a model for my portrait.

Click on the speaker icon at the left to hear me.