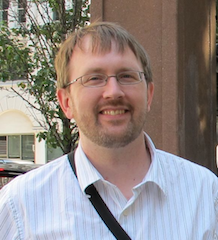 Publications
In Progress
Continuatio Bedae (critical edition of eighth-century annals, on the basis of new manuscripts; in progress, and to be submitted to journal Anglo-Saxon England [Cambridge, UK]).
The Bedan Legacy, co-authored with George Hardin Brown.
Reading Bede's History in Medieval Europe, ca. 731-1500.
Articles and Chapters:
"New Manuscripts of Bede's Letter to Albinus," Revue Bénédictine 120 (2010): 208-15. DOI: 10.1484/J.RB.5.100545
"The Wilfridian Annals in Winchester Cathedral Library, MS 1 and Durham Cathedral Library, MS B.ii.35," in The Study of Medieval Manuscripts of England: Festschrift in Honor of Richard W. Pfaff, ed. George H. Brown and Linda E. Voigts (Tempe, AZ: ACMRS, 2010), 209-23. DOI: 10.1484/M.ASMAR-EB.3.4623
"Bede and the Continent in the Carolingian Age and Beyond," in The Cambridge Companion to Bede, ed. Scott DeGregorio (Cambridge: Cambridge University Press, 2010), 201-15. DOI: 10.1017/CCOL9780521514958.014
"Evidence for the Presence of M-type Manuscripts of Bede's Historia ecclesiastica in Northern England after ca. 800," Revue Bénédictine 116 (2006): 310-15. DOI: 10.1484/J.RB.5.100556
"Manuscripts of Bede's Historia ecclesiastica gentis Anglorum in the Bayerische Staatsbibliothek, Munich," in Angelsächsisches Erbe in München / Anglo-Saxon Heritage in Munich: Angelsächsische Handschriften, Schreiber und Autoren aus den Beständen der Bayerischen Staatsbibliothek in München / Anglo-Saxon Manuscripts, Scribes and Authors from the Collections of the Bavarian State Library in Munich, ed. Hans Sauer et al. (Frankfurt am Main: Peter Lang, 2005), 89-100.
Encyclopedia Entries:
"Annales de Dunstaplia" (with Gaynor Bowman, p. 63); "Chronica de archiepiscopis Eboracensibus" (p. 300); "Chronica metrica ecclesiae Eboracensis" (pp. 367-68); "Chronica pontificum ecclesiae Eboracensis" (p. 396); "Continuatio Bedae" (p. 489); "Northern Annals" (pp. 1155-56); and "Wessington, John" (with Michael Twomey, pp. 1500-1), in Encyclopedia of the Medieval Chronicle, ed. R. G. Dunphy (Leiden and Boston: Brill, 2010). See also the list of my articles on the Brill Online Reference Works website (behind a paywall).
Book Reviews:
Review of Bede: On Genesis, trans. Calvin Kendall (Liverpool: Liverpool University Press, 2008), in Early Medieval Europe 18 (2010): 479-80. DOI: 10.1111/j.1468-0254.2010.00307_6.x
Review of Innovation and Tradition in the Writings of the Venerable Bede, ed. Scott DeGregorio (Morgantown: West Virginia University Press, 2006), in The Medieval Review (electronic publication on June 17, 2008). http://hdl.handle.net/2022/4294