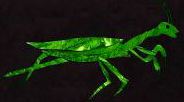 BUGS
All Kinds of Neat Stuff!
---
Introduction
The special education program at Fairland Elementary is comprised of two classes. The primary class contains students from grades 1,2 and 3. The intermediate class has students from grades 4 and 5. The students have a variety of academic, emotional and behavioral needs.
The objective of this project was to create an integrated unit that allowed students to work on reading and research activities, writing and word processing, geography tasks, math problem solving, arts and crafts and technology. This project was developed to create multiple opportunities for direct instruction in areas related to MCPS curriculum as well as IEP goals developed for each student.
Index of Pages
How we did this project
Related Internet Sites
Special Thanks
---
This page is maintained by Mary O'Haver, Fairland Elementary School, and Prof. Thomas O'Haver , University of Maryland, through the cooperation of the Maryland Collaborative for Teacher Preparation and the Computer Science Center of the University of Maryland at College Park. Comments, suggestions and questions should be directed to Mary O'Haver at mohaver@umd5.umd.edu or Prof. O'Haver at to2@umail.umd.edu.

This Web site was first created on June 4, 1997
Last updated June 4, 1997
Template design by Tom O'Haver, March 1996.