Faster than carbonic anhydrase...
More powerful than mitochondria...
Able to leap tall sequencing gels in a single bound...

This looks like a job for...

BioKen (aka Ken Frauwirth)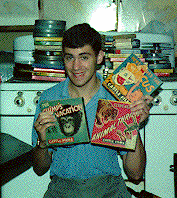 Welcome to my Petri Dish!  I am Ken, aka BioKen, an assistant professor in the Department of Cell Biology and Molecular Genetics at The University of Maryland. My research centers on studying the causes and signaling events involved in T cell anergy (one  of the ways the immune sytem can be shut off when it needs to be).
I completed my Ph.D. in the MCB  (Molecular and Cell Biology) Department at UC Berkeley.  My graduate work was in  Nilabh  Shastri's Lab, in the Division of Immunology, where they study  antigen processing and presentation. For those of you who are not up on your  immunology, this is basically the way that the cells of the body alert the  immune system that something is wrong. My thesis project involved investigating the role of the  invariant chain in the Class II MHC antigen processing pathway. I followed that with a post-doctoral fellowship in Craig Thompson's Lab (currently at Memorial Sloan-Kettering Cancer Center).
---
An academic career is an uncertain thing, so I'm hedging my bets a bit.  I have been trying my hand at the cartoon business (inspired by such greats as Scott Adams' Dilbert and Gary Larson's The Far Side) My attempts at humor can be found on the SDS-Page.
---
Questions? Comments?  Send email to swingdanceken@yahoo.com