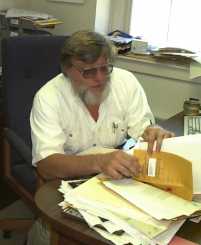 Welcome to my home page
James F. Klumpp
Professor Emeritus
Department of Communication
University of Maryland
---
I am Professor Emeritus in the Department of Communication. This home page includes material on courses I taught while at the university and examples from my research program which continues.
---
You may read about my . . .

Teaching
Information about courses that I taught during my tenure at Maryland.

Research
A description of my research interests and hyperlinks to some of my writing. A full list of my publications and presentations is available in my Curriculum Vita.
---
Other information about our department
The Department of Communication at UM is located in the Skinner Building up the hill from the Chapel on the College Park campus. We have a faculty of 23, approximately 650 majors, and around sixty graduate students. We are a nationally oriented program and have four specialties ranked in the top-ten of Communication doctoral programs (public relations is ranked #1; intercultural #5; rhetorical studies #7; and political communication #8) in the United States. We offer the BA, MA, and PhD degrees and also offer an interdisciplinary minor in rhetoric in cooperation with the Department of English. We are one of 22 units in the College of Arts and Humanities.
Information on our undergraduate major and our graduate program are available on our departmental website.
---
Additional Places to find out about the discipline of Communication

The American Communication Association Website

Comserve from RPI

National Communication Association Website

Eastern Communication Association Website

The American Forensic Association Website

The Kenneth Burke Society Website

NCA/AFA Summer Conference on Argumentation (the Alta Conference)

International Society for the Study of Argumentation Website

Rhetoric Society of America Website
---
What I am doing these days?
| | Yvonne and I have moved to the beautiful mountains of North Carolina, north of Asheville. I continue to do research, to write on subjects that interest me, and at the moment to work with graduate students as well. I plan to stay involved in the energy that is academic life for the near future. I welcome your interaction with me on your ideas or mine. |
| --- | --- |
---
Contacting Me
You may contact me several ways:
Snail Mail: 409 Upper Haw Dr., Mars Hill NC 28754
Voice Phone: 828-689-4456
Email: jklumpp@umd.edu

This page is maintained by James F. Klumpp.
Material accessed via this page is updated when necessary. Last update: October 28, 2016