Puritan New England
Contents
Return to the COMM 460 Home Page
---
How do you live your life?
You are basically a farming family

You have a small plot of land where you grow grain, with perhaps some farm animals; planting, weeding, harvesting are your basic activities
You cut wood, build things you need with wood; buy metals, books, some cloth, some food not growable (spices), and other provisions
If a man (father of the family), you have some trade or profession in addition: minister, cooper, hunter, miller, tanner, furrier, surveyor
If a woman (mother of the family), you help in the fields (particularly your garden) and with animals, may have a trade such as candle maker, weaver, tailor, midwife.
The typical family is a husband and wife and three or four children; the latter among the eight to twelve children that will be born into the family during the lives of the parents. You do not think of yourself as an individual but as within a family.

Life follows the rhythms around you

Spring is for planting, summer for caring for the crops, fall for harvesting and preserving
Daily life is dawn to dusk
Sunday and Wednesday are times at the meeting house

You live in a village with relatives and other like-minded families

Center of your world is 3 blocks by 5 blocks

You may well move during your life to stretch the colony further into the wilderness
Return to the Contents of this page
Return to the COMM 460 Home Page
---
Where do you go to live your public life?
The meeting house

Church twice a week
Governmental functions after church. The New England tradition is lots of debate and discussion about matters before the commons. All of the chosen families participate in the meetings and vote on matters put before the commons.

The Commons or Village Green. An outdoors area where leisure time is spent, neighbors are greeted. This also tends to be the mart, where barter is conducted. Issues facing the village are discussed more informally here. Think of the commons as the shopping mall of the day.
Return to the Contents of this page
Return to the COMM 460 Home Page
---
What do you talk about in these public places?
Religion. Above all, God and God's plan for New England. The discussion of religion is not theology, it is a very concrete discussion of what God's plan is and the place of your village and New England in that plan. God is a live breathing person as you talk about Him. He is an active planner and an active presence in your life and your village.
Defense. Disruption from Native Americans is minimal (with important exceptions), and when it comes it tends to be what we would today call "crime." A renegade from a Native village perpetrates a crime on a New Englander. Nevertheless, preparations for defense are constant.
The practical problems of community. You talk about everyday things: the rain (or lack thereof), the ease of the fishing, the absence of deer, illnesses that are visiting the village, whether to expand the village, the health of a favorite villager, how to make a better hinge for your door, the possibility of colonizing further into the wilderness. Above all, however, it is the way you talk about these problems that is important. They are manifestations of God's favor.
Return to the Contents of this page
Return to the COMM 460 Home Page
---
How is authority distributed?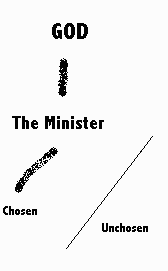 Authority in New England is hierarchical

God is personified: He is a concrete planner. He knows what he wants. He is also an actor. Everyday He takes actions in the world as a full participant. He has emotions, exercises power. Even though God's plan is real, it is obscure. It is important to attend to all that he communicates because it is not easy for humans to understand.
The Minister interprets God to humans. He has a special place in the community as God's voice. He carries the responsibility for interpreting God's plan correctly. This means taking the events that happen everyday in the village and interpreting what they mean in terms of God's plan. The minister has been to college -- he is specially trained -- so that he can read the Bible and understand how it manifests itself in the everyday life of the village.
The Chosen are the people of the village that try so hard to understand God's plan. They view themselves as His instruments on earth. They must figure out his plan, know when they deviate from it, and how to correct their lives so they are living within it.
The Unchosen were also present in the village, but they had no public authority beyond their special practical skills. They could not know God's plan, so they would only complicate the decision making.

Among the chosen, New England society was very egalitarian. All participated. Despite this, like in any other practical minded society, those whose interpretations of God's will seemed to work best had more authority. Thus, authority was built over time with "success" as they defined it -- success as interpreting God's word and living by it.
Authority could also vary by practical knowledge. When the topic was building a new meeting house, the carpenter, the joiner, the cottager would be listened to more readily than would the miller.
Return to the Contents of this page
Return to the COMM 460 Home Page
---
What rhetoric motivated public action?
The motivational axis of the New England community was God's plan. The community acted according to God's plan. Actions would be taken to the extent that they furthered that plan. Public debate revolved around what that plan was and what needed to be done to fulfill it on earth (in their village).
The locus of public action was the community. New Englanders did not think of what actions they should take as being a decision of individuals about individual actions; they thought of actions as those of the community.
"We must delight in each other, make others conditions our own, rejoyce together, mourn together, labor and suffer together, always having before our eyes our community as members of the same body." John Winthrop, Speech aboard the Arbella, Salem Harbor, 1630.
You talked about events around you to locate the appropriate public response to them.

God is in control of all. He was personified. A planner who brings his will to the world. He rewarded and He punished. He is kind, but vengeful to those who ignore his plan. The fate of his people is always in his hands.
People of New England are instruments of God's plan with responsibility to it. There was anxiety: a fear because if the community violates God's plan, God will send all sorts of plagues and all within the village will be damned eternally. But there was also exhilaration: you are not simply planting a crop, in doing so you are participating in the greatest human endeavor ever -- the living testament of God's plan, thus proving to the world that He provides a perfect world.
These were a people in history -- events happened to them and had meaning in terms of the journey to the fulfillment of God's plan.
Thus, the events of the world became sacred, rather than secular events. Events of the world signaled God's favor and condemnation.
Return to the Contents of this page
Return to the COMM 460 Home Page
---
Some characteristics of Puritan Rhetoric
The Jeremiad. Life is seen in terms of God's promise and our responsibility to him. Hardship is seen as God's disfavor or His test. This way of talking about events provided a powerful motivation for work.
Liberty. Liberty was freedom to do God's bidding. This is not negative liberty -- freedom from . . . -- but positive liberty -- freedom to . . .
Metaphors

Biblical metaphors. Discourse is heavily laced with Biblical frameworks for their own events. That included a lot of the children of Israel and the story of Job. New Englanders saw themselves as in captivity in Britain just as the Israelites had been captive in Egypt. Their errand into the wilderness was the journey of the Israelites. Their New England was the land of milk and honey.
Life metaphors. Other metaphors were heavily laced with the experiences of life. This was a very concrete culture in which events of the world had great significance.
Family metaphor. This metaphor was particularly important in expressing the relationship of God (the father) to his children (New England). God loved New England like a father loves his children. God disciplined New England out of the sense of love like a father disciplines his children. God could get angry with his children, as any father could. But God provided his protection to his familly as any father would. Remember two things about this metaphor. First, God is a father not a mother; and this is not a post-Spock father who runs an open and democratic family, but the Lord who is responsible for the goodness of his family.

The Puritan Form. Puritan sermons were outlined in a defined form.

Text. This was a quotation from the Bible. It was not here to teach the Bible; the puritan audience knew its Bible already. This was here to point to the text for the sermon. Puritan anxiety would have raised in the audience the question: What does this mean?
Exigesis. This is the minister's taking the text and explaining its meaning. This meaning would have revealed God and God's plan. It was here that the Puritan minister was trained. This was where his anxiety was greatest.
Application. This section applied the sermon to everyday life. The Puritan sermon was a document that taught metaphysical lessons -- about how to save your soul. The Puritan sermon taught toward everyday life. What did God ask you to do today?
Perry Miller in The New England Mind,
"The Anglican sermon is constructed on a symphonic scheme of progressively widening vision; it moves from point to point by verbal analysis, weaving larger and larger embroideries about the words of the text. The Puritan sermon quotes the text and "opens" it as briefly as possible, expounding circumstances and context, explaining its grammatical meanings, reducing its tropes and schemata to prose, and setting forth its logical implications; the sermon then proclaims in a flat, indicative sentence the "doctrine" contained in the text or logically deduced from it, and proceeds to the first reason or proof. Reason follows reason, with no other transition than a period and a number; after the last proof is stated there follow the uses or applications, also in numbered sequence, and the sermon ends when there is nothing more to be said. The Anglican sermon opens with a pianissimo exordium, gathers momentum through a rising and quickening tempo, comes generally to a rolling, organ-toned peroration; the Puritan begins with a reading of the text, states the reason in an order determined by logic, and the uses in an enumeration determined by the kinds of person in the throng who need to be exhorted or reproved, and it stops without flourish or resounding climax" (332-3).

The Puritan Style.

Logical. The Puritan sermon clearly laid out claims and gave reasons for those claims. There was a clear sequence with expectations of that sequence. It appealed overtly to people's reason. Emotion and pathos were created logically as an end product, not through rhetorical flourish or image.
Plain. There was no rhetorical flourish in Puritan sermons. They were matter of fact. They might even be considered a drone. No rise and fall of tone, pace, or rhythm. The interest of the Puritan audience was held by anxiety of need rather than through rhetorical devices.
Return to the Contents of this page
Return to the COMM 460 Home Page
---
How Good A Puritan Are You?
Formulate messages to answer these questions. Try them out on a classmate. Let them tell you whether you sound like a good puritan or not.
Why do you choose to learn the skill you do?
What about the fire that destroys your house worries you?
What do you do with the citizen who refuses to work? How do you justify doing so at the town meeting?
Why do you worry if you are a woman who loses her husband? How do you mourn?
Why do you get rid of your minister? How do you justify it?
How do you explain the grasshoppers that are eating your crops?
How do you introduce the death of a son or daughter to their brothers and sisters? See Samuel Danforth
How do you make the case at the town meeting for settling the rivershore at Freshwater Brook?
How do you convince the militia that it is time to respond to the threat from the Natives?
Return to the Contents of this page