Frederick William Devoe
(26 January 1828 - 21 March 1913)
Date this page was last edited=
11 Feb 2016
Appears on chart or charts: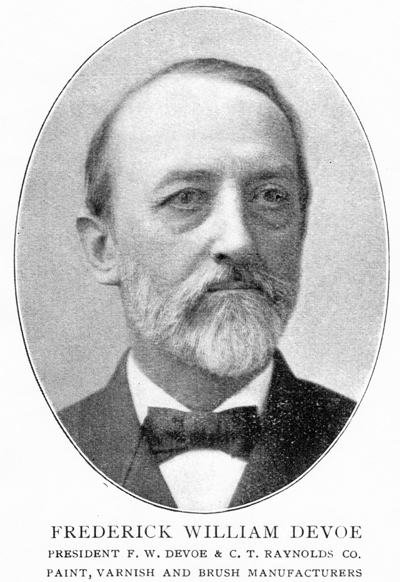 From "Notable New Yorkers of 1896-1899 : a companion volume to King's handbook of New York City," King, Moses, New York, N.Y., pub. M. King, c1899, p 454. Scan of photocopy made at Westchester Historical Society, 1 November 2006.
Frederick William
Devoe
was born on 26 January 1828 in
New York, New York
.
1,2
He was the son of
John
De Voe
and
Sophia
Farrington
.
1
Frederick William Devoe married
Sarah Matilda
Briggs
.
3
In his 1885 genealogy, Thomas F. De Voe stated that his youngest brother Frederick "is largely engaged in the manufacture of paints, brushes, etc., which are disposed of at his stores corner Fulton and William Streets, N. Y. City."
4
According to a booklet published in 1942 by the Devoe and Raynolds paint company, Frederick was largely responsible for the company's success. The business was started in New York City in 1754 by William Post, who was followed by his two sons, Butler and Barker. Butler sold out to Charles T. Raynolds in 1851; in 1852, he took in "an up-and-coming clerk," F. W. Devoe. There were various new partnerships; Raynolds left and later (in 1892) rejoined. Devoe was the president and main sparkplug of the company, and did some testing of his paints and brushes himself. There were no other Devoes among the officers and directors.
5
From the booklet:
He was a remarkable man--this Devoe. Short, slight, handicapped by a noticeable limp, he rose above all limitations through indefatigable energy and indomitable will. He had cold, piercing eyes, a resolute face, with a hard, jutting beard, a manner as quiet as it was determined. And though he had little of the personal magnetism that makes some men widely beloved, people instinctively recognized in him an absolute sense of justice, and they followed him out of respect if not affection. He had a genius for detail and a passion for perfection. . . Devoe himself became yearly more austere, more reserved, farther removed from the vital operating details of manufacturing and selling. Yet until nearly the time of his death in 1913 he presided - very literally - over the office. Even his oldest associates stood in awe of him.5
Frederick William Devoe died on 21 March 1913 at his home at
59 Park Avenue, New York, New York
, at age 85.
6,7
He was buried in
Saint Johns Cemetery, Yonkers, Westchester County, New York
.
2
His net estate was appraised at $2,048,759.91.
8
---
This family history is a work in progress. If you know of any errors or omissions, please contact me through the e-mail link at the bottom of the page.
---