The Amedee Chabot, Christa Linder and Elizabeth Campbell Page
Dedicated to three actresses of 1960s Mexican cinema: Amedee Chabot, Christa Linder, and Elizabeth Campbell. This page will be updated with additional information and photos as often as possible, so check back frequently. Comments and assistance welcome.

n the long history of Mexican cinema, the 1960s stand out as the only decade in which the industry actively sought out foreign, non-Latin performers. Among those actors and actresses "imported" during this decade were Boris Karloff, John Carradine, Cameron Mitchell, June Wilkinson, Martha Hyer, Nick Adams, Jeffery Hunter, Glenn Ford, Lana Turner, Troy Donahue, Slim Pickens, and Robert Conrad, some appearing in co-productions, others in purely Mexican films.

lso in this group were three young women: Amedee Chabot, Elizabeth Campbell, and Christa Linder. Their careers are similar in some ways, different in others. Elizabeth Campbell was the first to arrive, but made the fewest movies (16) in an 8-year span; Chabot appeared in 23 Mexican features in three years; Linder's film career was the longest, spanning 16 years and more than 30 pictures made in various countries, but she only concentrated her efforts in Mexico between 1968-72. All three were generally cast as gringas, stereotyped as sexy outsiders.

ow did they wind up in Mexico? Where are they now? Hopefully, as time goes by some of these questions will be answered (perhaps by you). This page is an introduction to the careers of these three sex symbols, whose presence graced so many Mexican movies of that wild decade, the Sixties.



Amedee Chabot

medee Chabot (she was frequently billed as "Amadee Chabot" or "Amedée Chabot" in Mexico) was born in Chicago in 1945. Sometime later, she moved to Northridge, California, and in 1962 was chosen "Miss California." She participated in the "Miss U.S.A." contest and on 22 September 1962, in Huntington, West Virginia, won the crown. Amedee went on to represent the United States in the "Miss World" contest that year in London, and made it to the finals of that competition, held in November. Later in 1962, Chabot was part of Bob Hope's annual Christmas tour of military bases, visiting Japan, Korea, Okinawa, Taiwan, the Philippines, and Guam. Others on the tour were Lana Turner, Janis Paige, Anita Bryant, and Hope stalwarts Jerry Colonna and the Les Brown Band of Renown.

n 1963, the blonde, blue-eyed Chabot made her debut in Hollywood, appearing in two episodes of "The Beverly Hillbillies." She followed this (well, we don't really know the exact order of production) with small parts in three pictures, two of them youth-oriented movies (For Those Who Think Young and Muscle Beach Party), plus a biography of bordello owner Polly Adler (A House is Not a Home), in which Amedee was one of Adler's prostitutes (her co-workers included newcomers Raquel Welch and Edy Williams). In 1965 and 1966 she had minor roles in at least two additional pictures, one starring Jerry Lewis (Three on a Couch) and a "Matt Helm" adventure spoof with Dean Martin (Murderers' Row). Her final Hollywood effort came in 1967 when she played a lovely gnome in the Disney fantasy The Gnome-Mobile.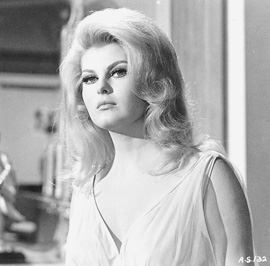 medee Chabot's first Mexican film was shot in May 1966, the Santo-Jorge Rivero spy adventure El tesoro de Moctezuma, in which she had the female lead as Rivero's love interest, an Interpol agent. Ironically, Elizabeth Campbell had been featured in Operación 67, which Tesoro was a sequel to. Bañame mi amor, shot in the later summer of 1966, teamed Chabot with the Texas-born Emily Cranz, an actress and dancer who had been working in Mexico for a number of years. Amedee's final film of 1966 was Autopsia de un fantasma, which starred three former Hollywood "names": Basil Rathbone (his last film), John Carradine, and Cameron Mitchell.

hat brought Amedee Chabot to Mexico? At this point, we don't know. However, it was undoubtedly a good career move for her. After playing bit roles in routine Hollywood pictures, she was given substantial parts in Mexico, and work was plentiful: Chabot acted in 10 features in 1967 and 10 more in 1968, even though her dialogue was virtually always dubbed. [In Operación Carambola Chabot's real voice can be heard in one scene; otherwise, although in many of her pictures she seems to have been speaking her lines in Spanish during filming--based on the movements of her lips--her voice was over-dubbed by others]

habot's Mexican movies were mostly comedies, with a number of action films and Westerns in the mix. Her most "serious" picture was Narda o el verano, basically a three-person drama with Chabot as the romantic interest for Enrique Alvarez Félix and Héctor Bonilla.

owever, in 1969 Amedee Chabot dropped out of films. On 10 January 1971, the "Corte!" column by Ricardo Ferete in Excelsior indicated: "Amadee Chabot writes from Hawaii and says she will return to Mexico to resume her film career. The statuesque American [estadounidense] blonde was converted into a star here, but inexplicably vanished from the scene..." A followup piece on 5 March 1971 read: "Amadee Chabot prepares her return to show business after a brief absence. She is an actress but it isn't unusual that she has decided to give us a surprise as a singer." However, this comeback apparently never occurred.

here is she now? NEW INFO 9 AUGUST 2000: Amedee Chabot is now living in California, where she is a successful real estate agent. If you'd like to see a photo of Amedee as she looks today (pretty darn good) and read about her business activities, go to Amedee Chabot's own page.
Amedee Chabot Filmography and Photos



Elizabeth Campbell

hile Amedee Chabot and Christa Linder epitomize the blonde sex symbol, Elizabeth Campbell (although certainly beautiful and sexy in her own right) was a different type, a tall, assertive red-head whose screen roles often emphasized her physical and personal dominance (to reemphasize the fact that Campbell was "buenota y grandota," as Emilio García Riera describes her, Calderón teamed her with short comedians like Joaquín García "Borolas" and Chucho Salinas).

ess is known about Elizabeth Campbell than either of the other two actresses discussed here. Her background and life prior to her Mexican film debut are a mystery, as are her whereabouts since her departure from movie-making at the end of the 1960s.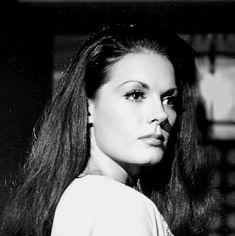 ampbell made her first movie appearance in 1961's Los pistoleros (an "Elizabeth Campbell" had appeared in a late 1950s' British film, but this is probably not the same person). This Western was shot at the end of December 1961. After a role in A ritmo de twist in 1962, Campbell was hired to play "Golden Rubí," one of the "Luchadoras" (Wrestling Women) in Las luchadoras vs. el Médico Asesino; she would repeat this role in three sequels, concluding with Las mujeres panteras in 1966. These films were all made by Cinematográfica Calderón.
lizabeth Campbell also appeared in Guadalajara en verano, which featured American singer Dean Reed (who would soon become famous when he "defected" to the Soviet Union), and Cuernavaca en primavera, co-starring Martha Hyer. She played beautiful female super-villains in two James Bond-inspired spy films, Operación 67 and Peligro...mujeres en acción.

roducer Alberto Zugsmith briefly set up shop in Mexico in this era, and Campbell worked for him twice, in The Chinese Room and The Phantom Gunslinger. Both of these pictures were shot in English, using some Hollywood performers (especially the latter movie, which starred Troy Donahue) and Mexican actors and actresses who spoke English. The Chinese Room is largely Elizabeth Campbell's film: she is given the full star treatment in makeup, costumes, and photography in this adaptation of the "sensational" novel by Vivian O'Connell.

fter shooting Las sicodélicas in 1968, Elizabeth Campbell--according to an item in the 11 December 1968 issue of Excelsior--left for New York to work in television. She was not seen again on the screen, and her life and career since that time are as much a mystery as her pre-1961 history.
Elizabeth Campbell Filmography and Photos



Christa Linder

hrista Linder was born on 3 December 1943 (not 1946 as some sources cite) in Berchtesgaden, Germany. Despite this, Christa was Austria's representative in the 1962 "Miss Universe" pageant, finishing in the semi-finalist ranks.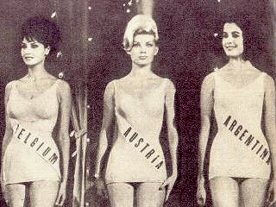 Linder went on to have an international film career, participating in West German, Austrian, Italian, French, Spanish, Hungarian, Lebanese, Mexican, and Hollywood productions and co-productions between 1964 and 1980. Her sister Hansi Linder also acted in some movies in this period.

inder had already made nearly a dozen movies before she began her Mexican career, which occupied most of her time between 1968 and 1972. It's not known what brought her to Mexico: her first non "Euro" appearance was in a 1966 episode of "The Rat Patrol," but this U.S. TV series was shot in Spain, where Linder had worked in several co-productions. She can be seen very briefly in footage shot at the 1967 Reseña de Cine in Acapulco (used for the credits sequence of El matrimonio es como el demonio, a film in which she otherwise does not appear), sitting next to playboy Teddy Stauffer. Was this her introduction to the Mexican film industry? (Ironically, later in the movie a minor character is referred to as a "Romanian actress who came here for the Reseña and decided to stay") In 1968 Linder made her first Mexican film, although her scenes were actually shot in Hollywood with Boris Karloff (Invasión siniestra). Later that year, she was (back) in Mexico itself, where she quickly established herself as a blonde sex symbol.

n 1972 Linder returned to Europe, but made a few additional Mexican features--plus one Hollywood movie and a TV appearance--in the next 8 years. And then, like Elizabeth Campbell and Amedee Chabot, she vanished from the public view.
Christa Linder Filmography and Photos



Photo Gallery updated 22 March 2004.
If anyone has any additional information on any of these three actresses, please feel free to contact me! To date I have received valuable information about Amedee Chabot and Christa Linder...anybody know where Elizabeth Campbell is today? Mail me with comments, additions, corrections!
Created 31 May 1999 by David Wilt. Last update 22 March 2004

---