Love After Death* (Charles Abrams Productions Inc./Abrams & Parisi, (c)1968**) Prod: Charles Abrams; Dir: Glauco del Mar; Scr: Antonio Velázquez; Photo: Peter Palian; Film Ed: [Peter] Palian-[Glauco] del Mar; Sound/Mix: Haverland Films
*aka Unsatisfied Love
** at least one source lists a "1965" date for this movie, but I think this is (a) possibly just a typo, and (b) much too early. Another source gives "1966" and seems a little closer.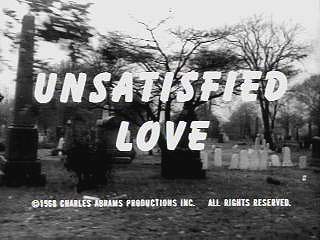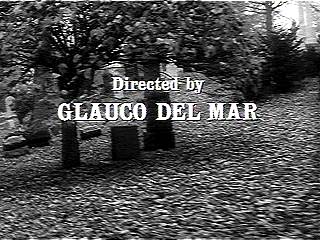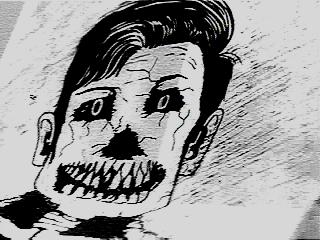 Cast: Guillermo de Córdova [= Guillermo Crespo] (Mr. Montel), Roberto Maurano (Dr. Anderson), Carmin O'Neal (Sofía), Ángel Mario Ramírez [aka Angelo Ramírez] (Manuel***), Gloris García and Yolanda Signorelli (girls on street), Juan Torres (Detective Vázquez), Jennifer Welles (brunette lesbian), Cherie Winters (blonde lesbian)
***credited as "Arturo," but this character is played by another actor
Update (Feb 2022): The earliest theatrical date I have found for Unsatisfied Love is March 1967. It (or some film under this title) continued to get playdates throughout the 1970s and as late as 1981! Love After Death first shows up in September 1968, and plays through 1972 (although the 1971 film Is There Sex After Death? is sometimes advertised as "Is There Love After Death," and there may be some confusion here. However, it seems that while Unsatisfied Love was the original title, Love After Death did not replace it in all circumstances, as prints under both titles were circulating at the same time (unless, as noted, there is more than one "Unsatisfied Love" out there).
Notes:Why this movie has been tagged as an "Argentine" import with "inserted" scenes is hard to understand.The film was clearly shot in New York--New York state license tags are visible on the limousine in the cemetery scene, street and shop signs are in English, and the cast and crew are composed of people who worked regularly in movies in the New York area. The lesbian sequence with Jennifer Welles is frequently cited as an "added" scene but since "Guillermo de Córdova" appears in the scene as well, does anyone think he was flown from "Argentina" to New York just for that?The facts are clear, this was shot entirely in the New York area--in Spanish--with mostly Puerto Rican talent by a Puerto Rican (or Dominican?) director who later went on to make a number of other features, both in New York City and Puerto Rico. Whether a Spanish-language version was ever completed and released (and under what title) is unknown, but although marred by a terrible canned music score and ludicrous dubbing, Love After Death was probably not much better in its "original" form, since it was obviously conceived as a typical 1960s New York skin flick. In other words, the plot (admittedly weird) is little more than a framework for numerous scenes of nudity and simulated sex. [Note: I have only found one source--a 2006 program of the Videoteca del Sur (http://www.videotecadelsur.org/), which semi-correctly identifies this movie as "Puerto Rican" (sic).]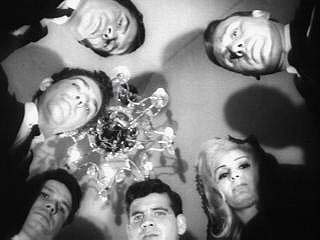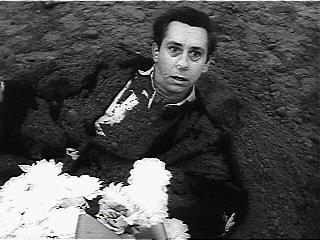 The wealthy Montel awakes in his coffin. He can't understand why his wife Sofía, Dr. Anderson, or anyone else at the wake doesn't remember he suffers from catalepsy, and he is unable to communicate with them before he is buried alive. Dr. Anderson is having an affair (of sorts) with Sofía--she claims she's still a virgin despite being married to Montel for six months (he was "sick") and won't sleep with Anderson until they're married. [Frankly, Carmin O'Neal does not look virginal at all, she looks like she's been around the block many times.] As it develops, Sofía really loves Manuel, identified as a "friend" of Montel (Arturo is Dr. Anderson's secretary, but both Manuel and Arturo at times appear to be working for the doctor).
Montel claws his way out of the grave and after changing clothes, heads for the city.[The structure he enters is later referred to as "the castle" and is apparently supposed to be his home, but it actually looks more like a church or some kind of monastery.] He abducts a blonde on the street and forces his way into an apartment--pushing aside the woman who lives there--where he undresses and attempts to seduce his victim. However, when she responds ardently to his caresses, Montel is unable to perform and flees.[In an amusing bit, the turned-on blonde coyly gestures to the apartment owner but the older woman refuses the offer.] Later, Montel visits a nightclub and sneaks into a dancer's dressing room to observe her lesbian foreplay with another woman; just when he decides to join the party, Montel realizes the dancer is a transvestite and hurriedly departs. In the next sequence, a blonde and brunette undress and begin to have sex in their apartment. Montel hides in their closet; when his peeping is discovered the brunette attempts to undress the uninvited guest but Montel leaves once more, "unsatisfied."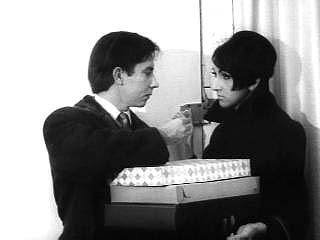 Montel observes Sofía and Dr. Anderson leaving the latter's apartment and vows revenge on his unfaithful wife and her lover. But first, he helps a young woman who has dropped her packages on the street and of course this leads to an invitation to her bedroom.Montel successfully closes the deal: "Now they can't say I'm sick! Now I'm a man!"
Police detective Vázquez, who had earlier notified Sofía that her late husband's corpse had vanished, now tells Sofía and Anderson that Montel is actually alive "in the castle."Anderson orders Manuel and Arturo to kill both Vázquez and Montel, but the detective kills the henchmen in a shootout in the park.
Meanwhile, Montel is back to his old tricks, sneaking into a room where a (very) hairy man is having sex with a tan-lined blonde. Montel knocks out the man in the bathroom and takes his place in bed with the sleeping blonde. When she wakes up, she pushes Montel away and he has to flee once more.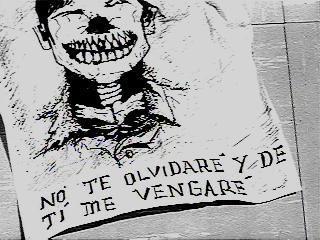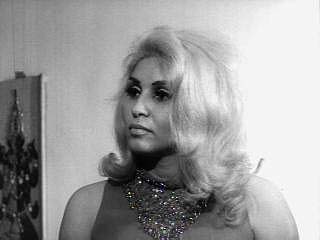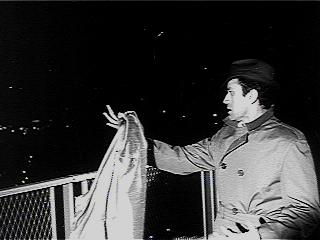 Now it's time for the final reckoning. Montel enters Dr. Anderson's apartment and stabs him to death on the balcony. He then strips Sofía and kisses her, but roughly pushes her away when she responds ardently. Clad only in a sheet, she tries to flee but is cornered by her "late" husband on the roof and strangled. Detective Vázquez arrives and grabs the murderer but Montel vanishes, leaving just his jacket in the policeman's hand.
Glauco del Mar's direction of Love After Death is hardly inspired, but it does have its wacky moments. As noted above, the dubbing is quite bad--and not even close to being in sync with the lip movements--but most of the "dialogue" is accomplished via voiceover narration, an economical way around the problem. Del Mar also displays a penchant here for giant closeups of lips, eyes, ears, and other facial features (several shots of Montel french-kissing Sofía are particularly gross).There are also a couple of (possibly coincidental)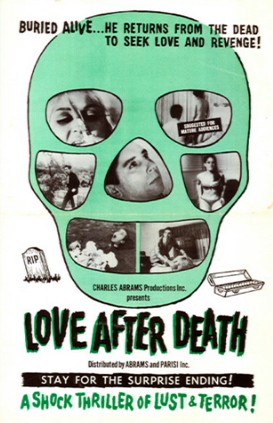 stylistic similarities with El Callao (a better film in many ways)--both films include some Doris Wishman-like shots of walking feet, and both films conclude with a rooftop sequence.
The DVD version released by Something Weird has a very strange "look" during the last several scenes, almost as if the action is unfolding in very slight slow-motion. This first becomes noticeable during the hairy guy-blonde sequence and continues for several additional scenes. The music score is not affected, which suggests the problem did not lie in the transfer to DVD, but in the actual film processing.
The nudity and sex in Love After Death (the title suggests necrophilia but nothing of the sort appears) are soft-core but still fairly explicit.No full-frontal nudity is shown (and in fact pubic hair is only glimpsed in fleeting shots) but the scene featuring the hairy guy and the blonde is reasonably graphic simulated sex. It's interesting to note that the picture includes a variety of sex: straight, lesbian, transvestite/woman, and even non-consensual. [Del Mar's Tigresa (1970) can beat this lineup, with rape, straight sex, two transvestites, and multiple lesbian scenes!]
It's impossible to judge the performances in the film impartially, but "Guillermo de Córdova" (who slightly resembles actor Paul Reuben) has a sort of demented-imp look about him (while Roberto Maurano at times looks like Mel Brooks in Blazing Saddles). "De Córdova" also appears--as "Guillermo Crespo," more likely his real name--in Tigresa as a cross-dressing police detective! Carmin O'Neal is actually scary-looking at times, and it's difficult to understand why Dr. Anderson and Manuel would be interested in her (except for the money she presumably inherits from her late husband).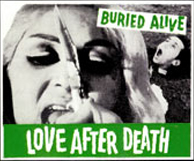 One piece of fascinating trivia about the cast of Love After Death is the (brief) presence of actress Yolanda Signorelli, who later married Harold von Braunhut, the genius behind the mail-order "sea monkeys" sold via ads in comic books during the 1960s, '70s, and later. In addition to Signorelli, two other New York adult-film veterans appear in the film, Jennifer Welles and Cherie Winters. A curious coincidence: one of Welles' later credits (before she moved into hardcore) was Is There Sex After Death? (1971).
Love After Death is a curiosity piece and at 71 minutes is worth looking at once, but it's hardly a satisfactory movie by most standards.
Oh, and it was not shot in Argentina!!
---
The Nuyorican Films Page

Page created 18 December 2007 by David Wilt. Updated to fix html issues, 9 Feb 2022. Email to dwiltNOSPAM@umd.edu (remove NOSPAM)