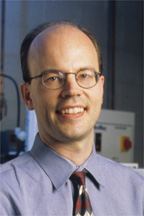 Wolfgang Losert , Associate Professor ,
University of Maryland
Director, Biophysics Graduate Program
Director, UMD-NCI
Partnership for Cancer Technology
Department of Physics,
IPST
and
IREAP
OFFICE:
A.V.Williams Bldg. Room 3341

,

301-405-0629
Bio Lab
:

Energy Res. Bldg, Room 0205,

301-405-0122
Granular Lab
: Energy Res. Bldg, Room 0300,

301-405-6368
Mail:
IREAP, P

aint Branch Drive Bldg 223,
Univ. of Maryland, College Park, MD 20742
email: wlosert@umd.edu
** Postdoctoral, Graduate Student, and Undergraduate Position may be available.
Please send email to wlosert@umd.edu with your CV and research interests.
My group applies Nonlinear Dynamics and Complex Systems Approaches to a variety of systems, from ensembles of grains to ensembles of cells. A special focus is on applications to cancer research.
Cell Dynamics: Our recent work indicates that the motor for fast migrating cells is based on reaction-diffusion waves start at the leading edge and propagate down alternating sides of the cell. We found that chemical gradients can start this motor, and steer it, but do not affect cell speed. Our goal is to elucdate how surface chemistry and topography affects this migratory machinery, and how internal waves may be harnessed to control cell behavior. To control surface topography we use nanofabrication approaches pioneered by our collaborator J. Fourkas (Chemistry). We also develop new tools to control the arrangement and dynamics of cell groups via holographic laser tweezers (in collaboration with SK Gupta, UMD). Funded by NIGMS, NSF and NIST.
Cancer Dynamics: In a project funded by a DOD Era of Hope Scholar Award to Dr Stuart Martin, we investigate the mechanical properties of models of circulating tumor cells. We also apply Complex Systems approaches to investigate cancer related biological processes as part of a Cancer Technology interaction between the University of Maryland and the National Cancer Institute, started in the summer of 2006. Work supported by DOD and NIH.
Granular Dynamics: Our goal is to characterize how interactions between particles in granular flows can lead to strikingly robust collective behavior such as memory of prior excitation, and segregation of particles by size. We developed a novel 3D laser scanning tomography approach that allows for direct imaging of the inside of granular flows. This is allowing us to directly observe individual and collective behavior of particles in flows. Our current analysis in collaboration with the Girvan group (UMD) focuses is on the use of network theory to assess the breaking and reforming of contact networks in granular flows. Funded by NSF-DMR and DTRA.

Affiliations: Bioengineering Program, University of Maryland Medical School Oncology Program, Burgers Program in Fluid Dynamics
wlosert@umd.edu
. Last updated: 8/19/2012