Interactive Computer Models for Analytical Chemistry Instruction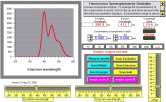 Tom O'Haver

Professor Emeritus




Department of Chemistry and Biochemistry




The University of Maryland at College Park


toh@umd.edu http://www.wam.umd.edu/~toh/models/

This is a collection of free, downloadable, interactive computer models and simulations of common analytical instruments and techniques. Most have a point-and-click interface; you click buttons and drag sliders to control variables and the model responds dynamically, often much faster than real time. I originally designed these models for students in my courses in Instrumental Analysis (an upper-division undergraduate laboratory course) and Spectrochemical Methods (a graduate lecture course). They were designed to be used by individual students either as homework assignments, for in-class use in a computer lab environment, in the laboratory for the analysis of student-generated data, or as a temporary replacement for unavailable laboratory equipment. They can also be used by the instructor in lecture-demonstration environments. Student-assignment handouts and suggested experiments are included for most of them. The mathematical basis for each model is described, including all cell definitions and equations. These spreadsheets make extensive use of named cells (variables), which makes the equations easier to understand (as compared to the standard spreadsheet row-colunm references). Instructors are able to and are invited to modify these spreadsheets in any way for their students.


OpenOffice Calc Versions


All of the new models and the updated versions of the original models are being developed in the Open Document spreadsheet format using OpenOffice Calc, part of the OpenOffice Suite, which students and faculty can download and use without cost, from OpenOffice.org for Windows, Macintosh, and Linux. To run these spreadsheets, you have to first download the OpenOffice installer (download from openoffice.org), then install it (by double-clicking on the installer file that you just downloaded), and then download my spreadsheets from this site. Once OpenOffice is installed, you can run my spreadsheets just by double-clicking on them. The OpenOffice suits also includes a full-featured word processor, a presentation program, and other components. There is no need for students to buy the expensive Microsoft Office suite; the latest version of OpenOffice is always available for free download. Note:: Downloading the individual spreadsheet .ods files with some versions of Interent Explorer will change the file types from ".ods" to ".zip"; you will have to edit the file names and change the extensions back to ".ods" for them to work properly. This problem does not occur in Firefox or in Chrome. Or you can download all the spreadsheets in ZIP format from this link:

PC and Mac users: Click here to download the complete set of OpenOffice spreadsheet models in ZIP format.

A few of the simpler spreadsheets have also been saved in the proprietary

Excel

(.xls) format (for which you must own a copy of Microsoft

Excel

), but I recommend that even Excel users download

OpenOffice

to make the best use of these models, since the conversion to Excel format may not be 100% perfect and because not every model is available in an Excel version. If you are constrained by your employer or University to use Excel exclusively, I recommend Scott Sinex's excellent collection of Interactive Excel Spreadsheets.


WingZ Versions
These models were originally developed in the early 90's in WingZ (.WKZ) format, an object-oriented spreadsheet with a built-in scripting language called HyperScript. This is still a useful format, because the HyperScript language has some has some unique capabilities that are useful in this sort of simulation and because the WingZ player program has a very modest memory footprint and runs very quickly even on older, smaller, or slower computers. I am gradually re-writing these models in the industry-standard, non-proprietary Open Document format (using OpenOffice Calc), but until that work is complete, some of them will be available only in the original WingZ format. To open the WKZ files you'll need the "player" application that is included in the following file archives for both PCs and Mac:

How to open WKZ files: Both of the file archives above include the WingZ player application that is needed to open the WKZ files. Make sure that ALL of the files in this download are kept in the same folder. Put any separately downloaded model files (.wkz files) in the same folder. To run a model, first launch Wingz.exe, then open the WKZ files from within Wingz (File => Open). (To get WingZ to launch when you double-click a WKZ file, you'd have to enter WKZ as a new file type in Tools => Folder Options => File types). Note: It is best to download the basic set of models initially, to make sure that you have all the pieces needed, then check back here occasionally for new models, which can be downloaded individually and then moved into the folder with wingz.exe.
Spectroscopy Instrumentation and methodology
Molecular spectrometry
Atomic spectrometry
Classical, electrical, and computational methods
If you have suggestions for other models like these that you would like to see developed, please email me at toh@umd.edu
---
Unsolicided Comments from Users at Other Institutions
"Let me congratulate you on a fine web page! I'm a technical support engineer for

Wingz

... and I rarely run across such sophisticated use of our products."

"I was able to get everything working nicely and can promise you they will be helpful with my students."

"Today I had the first simulation experiment and the students were excited... The lab was much more interesting than the lecture, this is for sure!...I had very good feedback from students..."


"...I have found [your worksheets] of great use whilst working on my current project."


"Wow! Nice work … and lots of it. Your stuff is wonderful!"


"What I like about your grating demo is that it clearly shows how increased dispersion causes the different wavelengths to have to travel different distances to the sensor...."


"Your models and write ups are excellant. It is an outstanding contribution for students and faculty members from developing countries."
---
References


1. Scott Sinex, Chemical Excelets: Interactive Excel Spreadsheets for General Chemistry. (http://academic.pgcc.edu/~ssinex/excelets/chem_excelets.htm)
2. Chemistry - PhET Simulations (http://phet.colorado.edu/en/simulations/category/chemistry)
3. Brian Tissue, Spreadsheet Simulations for Analytical and Physical Chemistry (http://www.files.chem.vt.edu/chem-ed/simulations/spreadsheets.html)


---
View this page in Romanian courtesy of azoft
---
© 1991-2012, T. C. O'Haver , Department of Chemistry and Biochemistry, The University of Maryland at College Park. Comments, suggestions and questions should be directed to Prof. O'Haver at toh@umd.edu.
Number of unique visits since May 17, 2008: