Sojourner Truth
By Peter Krass
Book report and stamp artwork by Earl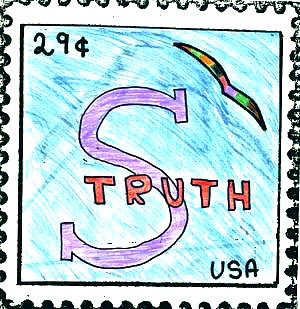 Sojourner Truth was born 1797 in Hurley, New York. When she was born her name was Isabella Dumont. Her parents' names were Betsy and James Dumont. She never knew her brothers or sisters because they had all been sold to other farmers at a slave sale in an auditorium or church. When she was growing up people made a law that said all slaves who were born before a certain year and time were to be set free in seven years. But any slave who was born after that year could only be set free when they had served a total of twenty-eight years for their masters or owner. Since she had been born before the time she would be set free in seven years. But since she had been a good slave her master agreed to let her free a year earlier. Then when she was tugging on a rope she cut her hand right down the palm of her hand and she wasn't able to work as hard and as fast as normal. So her master said that he couldn't let her free a year earlier but she still worked as hard as possible. Then she became free. She was over six feet tall, she was broad sholdered, and walked like she was about eight feet tall. The only schooling she had was from the Quaker family. They taught her from their own house when she was free because she needed to know how to read write so she could get a job. The things they taught her were reading, writing, vowels, and consonants. She was a very fast learner and since she didn't have a place to stay, they let her with them. She cooked food, washed clothes, washed dishes, and cleaned to repay the Quakers for letting her stay and sleep there.

One reason she is famous is because she helped Frederick Douglass with their never ending struggle to end slavery. While she was doing this, her first slave owner let all of his slaves go and he also joined the fight to end slavery. When they were trying to end slavery they encouraged a whole lot of farmers to let their slaves go and help encourage a lot more farmers to let their slaves go. Another thing she is famous for is she helped to win back women's rights. It was very hard to get women's rights to be equal or the same as men's rights because was a women. Preachers who were men said that women can't have the same rights as men because Eve had ate off the forbidden fruit. After the preacher had stated that, she said if women can turn the world upside then they can turn it rightside up.

This stamp commemorates Sojourner Truth. When she was little and even when she was grown up she loved to stop and watch the birds fly and sometimes she imagined that the birds were in different colors of the rainbow or just multi-colored. The location of this stamp is in the sky. The setting, location, and scene of the stamp is in the morning, in the sky and on a clear day. The colors on my stamp are a blue background, orange and purple letters and a multi-colored bird or condor. The symbols on my stamp are a big S the word TRUTH and a multi-colored condor. The big S stands for her first name Sojourner and the word truth is her last name and the multi-colored condor stands for the birds she loved to watch from when she was little until the end of her life. It also stands for her ideas because they embraced universal freedom. The ideas behind this stamp was to present something which represents simple, direct, but attractive truth.
---
Earl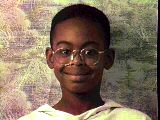 [Recorded comments - 48K]