Ponce DeLeon
by Wyatt Blassingame
Book report and stamp artwork by Krystal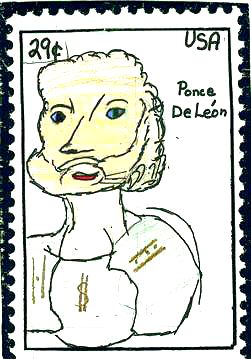 He was born on 1?91,His mom was on a ship when he was born. It does not really say where or when he died. He had a brother that died in his sleep. His had red hair, white and red skin, and he loved to explore places. He dreamed about his brother ever night, some nights he stayed awake most night, because some of the dreams were scary. His mother died when he was born, and whenever he went into her room he would cry and cry. He would cry when he went to his mother's grave. After he came home his dad had a heart attack, and he died. He got home and he went to his father's room and burst out with crying and crying. My mom said he crys to much in this book. It was so sad that his mother and father had died.

He got to go and explore new lands so he let some people come with him. He explored for the king and queen of Spain. He was supposed to find new places and bring back gold and other valuable stuff. Some people say he found the Fountain of Youth in Florida but it doesn't really exist.

This stamp commemorates Ponce DeLeon. It shows what he looked like.
---
Krystal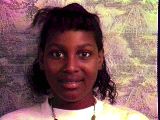 [Recorded comments - 40K]