Pocahontas and the Strangers
By Clyde R. Bulla, Illustrated by Peter Burchard
Scholastic Inc., 1971
Book report and stamp artwork by Christine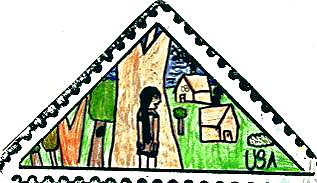 My book was about Pocahontas. She was an indian. Her father's name was Powhatan. He was a king. The only thing bad about him was that he was a very stubborn person. Pocahontas was a very beautiful girl. Also she was very adventurous, demanding and stubborn too. She had two older brothers. Their name's were Nantaquas and Parahunt. I am not sure what her mother's name was. She also had an uncle named Opekankano. She had many, many sisters but I don't know their names. Pocahontas knew Captain John Smith. Pocahontas married a man named John Rolfe. She had a baby named Thomas but she liked to call him little Nataquas. It was sad that her father never came to see the baby. Pocahontas died even before her father died. She died in 1617 in London.

Pocahontas is famous for saving Captain John Smith's life. It affected others because without Captain John Smith the town couldn't be kept up. Also she is famous for being the first indian to marry an English man. Then she went back and lived in London. This is how it affected others. It made her feel really weird because everytime that she went out in the town people would say look there's the Indian! The people of the town were always going crazy everytime that someone saw her just because she was an Indian.

This stamp commemorates Pocahontas. On my stamp I drew a picture of Pocahontas looking very surprised at seeing the Englishmen building their houses! In the book Pocahontas couldn't even belive her eyes there were so many houses! She ran all the way back to her village just to tell them that the Englishmen were in very near to them. I used an outside setting because it would look very weird if I showed her infront of a business building. The Englishmen had houses that Pocahontas had never seen before.
---
Christine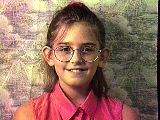 [Recorded comments - 36K]