BOOK TITLE
AUTHOR AND ILLUSTRATOR
PUBLISHER
Book report and stamp artwork by Julia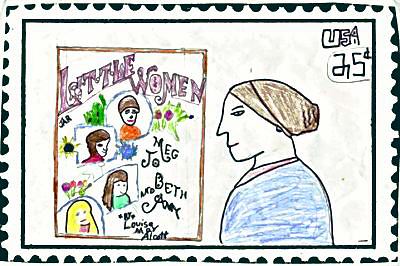 Louisa May Alcott was born in 1832, in Germantown, Pennsylvania. Her parents were Abba May Alcott and Amos Bronston Alcott. Louisa was on of four sisters, Elizabeth (the oldest), Anna, and May (the youngest). She also had a brother who died when he was born. Louisa had a very bad temper. She got it from her aunt Dorothy. Louisa hated to work but she loved to play. Louisa's sister Elizabeth, died at around 18. They were all very sad. When Louisa was young she loved acting and of course she loved writing. She and her sisters used to put on plays. When she was a child her dad owned a school where he taught them. Then the school closed and Louisa's dad didn't earn any money. Louisa was not a good worker but she was a very giving person. In Louisa's later years, during the Civil War, she worked as a nurse. She made lots of friends and helped many people. After nursing, Louisa started writing books. Louisa did on March 18, 1888.

Louisa had many different effects on others. One of the them was that she wrote many different books for children. She helped children bring out their dreams that are held in from embarrassment. Another one was Louisa wrote Little Women, which became a famous and well known book. Even I have it and it is one of my favorite books. It shows me that Louisa was very talented with writing. Louisa also wrote many other books besides Little Women, like Little Men and Inside the Tulips.

My stamp commemorates Louisa May Alcott. The colors on my stamp symbolizes some of the colors that she put on her books and how she liked to put life into her books. I show her looking at the cover of the Little Women book. The cover I drew was the original cover for Little Women. It shows Meg, Jo, Beth, and Amy, the four main characters in the book. I bet right now she is very proud of her book, Little Women.
---
Julia
[Recorded comments]