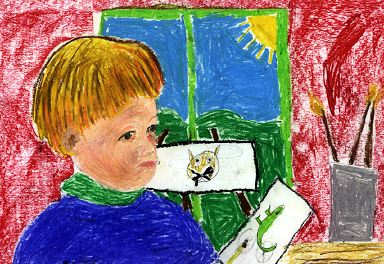 Self Portrait, by Craig. Oil pastel on paper, 11" x 14"



Hello my name is Craig and I am 9 years old. I was born on Jan. 17, 1986. In this picture I am drawing a picture of a gecko. I have hazel eyes. I have one very annoying brother. I like this picture, it's very nice. I also like building with LEGO bricks.
---
Here is the photograph that I used as a model for my portrait.

Click on the speaker icon at the left to hear me.