Jaiba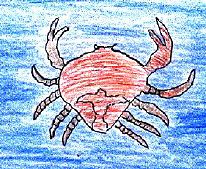 Spanish
Es un animal marino de clase crustáceo, de reproducción ovípara y que habita en aguas frías como: La Región de los Lagos, capital Puerto Montt y la Región del General Carlos Ibañez del Campo.

Es muy apreciado como marisco, es un plato muy rico en proteínas, grasa y agua. Hay una gran cantidad aquí en Chile, por eso podemos exportar a otros países como: Japón, Estados Unidos, Argentina y algunos otros más.

Algunas veces es difícil encontrarlos porque están bajo las rocas o en cuevas muy oscuras.

A los barcos extranjeros no se les permite entrar y pescar en nuestro territorio, para proteger esta fuente de trabajo de los chilenos.
English
The English word for jaiba is crab. It is a marine animal, it belongs to the crustaceous family and its reproduction is oviparous.

It lives in cold waters such as: Región de los Lagos , capital Puerto Montt and the Región General Carlos Ibañez del Campo.

It is very appreciated as shellfish. It is a delicious plate containing proteins, fat and water in great amounts.

There are lots of crabs here in Chile, that´s why we can export them to other countries such as:
Japan, United States, Argentina and some others.

Sometimes it is difficult to find them because they are under the rocks or in very dark caves.

Foreign ships are not allowed to fish in our territory, to protect Chilean people´s jobs.