Cesar Chavez
By Ruth Franchere
Book report and stamp artwork by Luis C.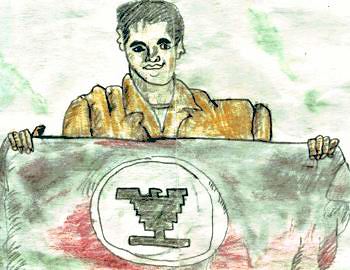 Cesar Chavez was born in Arizona, in1927. He was a Mexican-American. When he was ten years old, his family did not have very much money. He speaks Spanish and a some English. He has black hair, white skin, and black eyes. He is short and thin. His family moved because they needed money for taxes. He moved to California. When Cesar went to california his family found work. They picked fruit and vegetables and his family was tired. His house was very bad because it didn't have water and a bathroom. Cesar went to school very little because his family moved every month. He work on farms and he was tired. He died in 1992.

He is famous because he helped people. He told them don't buy grapes because the people growing the grapes were not fair to the workers. He wanted more money and better house for the workers. Cesar Chavez helped save people when they were sick. He helped the poor workers by telling everyone how mean and unfair the owners of the farms were to the poor people. That is why he is famous.

For my stamp, I drew a picture of Cesar Chavez. My picture shows him holding a flag. I drew this because that's my favorite picture and I like it.
---
Luis C.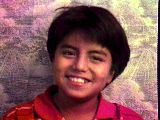 [Recorded comments - 48K]