Cal Ripken Jr. Oriole Ironman
By Stew Thornley
Lerner Publications, Minneapolis
Book report and stamp artwork by Libby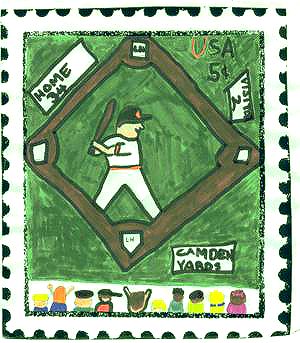 Cal Ripken Jr. was born on August the 24th. He had two brothers and one sister. His sister, Ellen is one year older than him, his brother, Fred is one year younger and his other brother, Billy is four years younger than him. Cal's mom's name is Vi, short for Violet. His dad's name is Cal Ripken Sr. Cal Sr. used to be the Baltimore Oriole's third base coach. Then he later became their regular coach. Cal Sr. was hardly ever home. He was usually traveling with the Orioles. When Cal was young, he spent lots of time at the baseball diamond. Cal has brown hair and blue eyes. When he was born, his family was middle class. In his later years, his family was rich because him, his brother, and his dad were all either playing, or coaching in Major League baseball. He gets 2.45 million dollars a year. He is very tall, 6 foot 4. He went to Aberdeen High School in Maryland. There he liked to play soccer but he liked baseball even more.

Cal Ripken Jr. plays for the Baltimore Orioles. He is number eight and he plays short stop. He influenced many young boys. He told them that anyone can achieve their dream. He achieved his dream by making it all the way to the Major League. He wanted to play baseball since he was very young. In 1983 he won the American League's Most Valuable Player award. (M.V.P.) He won many other awards. He invented a helping center that teaches grownups how to read and write. It is very helpful.

My commemorative stamp shows Cal Ripken Jr. playing baseball at Camden Yards, in Baltimorem, Maryland. I made Camden Yards the setting because that is where he plays most of his games. He is up to bat. The crowd is watching and cheering him on. The main colors are orange, black, brown, green and white. The Oriole's team colors are orange, white and black. The score on the score board is 34 to 2. Baltimore is wining by 32 points!
---
Libby

[Recorded comments]