Biography Book Report Hypercard Stacks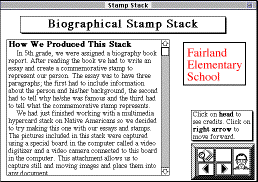 In 5th grade, we were assigned a biography book report. After reading the book we had to write an essay and create a commemorative stamp to represent our person. The essay was to have three paragraphs; the first had to include information about the person and his/her background, the second had to tell why he/she was famous and the third had to tell what the commemorative stamp represents.
We had just finished working with a multimedia hypercard stack on Native Americans so we decided to try making this one with our essays and stamps. The pictures included in this stack were captured using a special board in the computer called a video digitizer and a video camera connected to this board in the computer. This attachment allows us to capture still and moving images and place them into any document.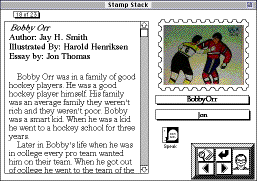 Once the pictures are captured they can be put into a hypercard stack. We designed this stack to show the stamp/picture each student made, the photo of each student, the text (essay) each student produced, and we added an audio button labled speak to hear the student say something about his/her report.
This stack was constructed using the Small Picture Template. A sample biography book report stack, with all pictures and sounds, can be downloaded as a self-extracting archive from

inform.umd.edu   
 Educational_Resources/
  Faculty_Resources_and_Support/
   ChemConference/
    Software/
     Hypercard/
      MultimediaExamples/
       StampStack.sea.hqx

Additional technical assistance:
Tony Nearman- student
Steven Sulik- student
Jon Thomas- student
Bernina Woodson- student
Thomas O'Haver- technical consultant from the University of Maryland
Mary O'Haver- 5th grade teacher at Fairland

For more information contact:
Mary O'Haver
Fairland Elementary School
14315 Fairdale Road
Silver Spring, MD 20905
301-989-5658



This page is maintained by Prof. T.C. O'Haver. Comments, suggestions and questions should be directed to Prof. O'Haver at to2@umail.umd.edu.