The MCTP Summer Internship Program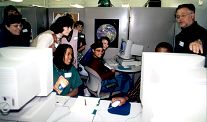 MCTP Interns and their guests at the NASA Goddard Teacher Resource Laboratory, Nov. 4, 1995
Program The Maryland Collaborative for Teacher Preparation (MCTP) offers a diverse range of summer research opportunities for MCTP students throughout the state of Maryland.
Purpose Summer research internships provide teacher candidates the opportunity to participate in mathematics and science as it is really done, not solely as it is taught in college lectures and stylized laboratory projects. Internships allow future teachers to experience a sense of discovery and accomplishment in mathematics and science. As teachers, they will be able to share this experience with their students.
Projects, Sites, and Mentors Research opportunities are available in mathematics and science research sites as well as informal mathematics and science education sites. Some of the interns work will involve reporting research outcomes, while other work involves reflecting on how to translate the research experience into classroom practice. The sites are located in Maryland, Virginia and the District of Columbia and include college and university campuses, businesses, government and industrial research labs, museums, and outdoor education centers. Students are placed with site mentors based upon mutual interests.
Funding Interns will receive stipends of $250 per 40 hour work week. A housing allowance may also be available.
Academic Credit Students may apply for academic credit for this experience at their own campuses. Students should contact their MCTP institutional representative for more information.
Applicant Qualifications Applicants must be MCTP students and must have completed at least one MCTP course by June 1997. They must be in good academic standing at the time of application and when the summer program begins. No applicant may have graduated before or during the internship program. All eligible MCTP students are encouraged to apply.
FULL-TIME Obligation
Interns should not hold a second job or take summer classes that interfere with the conduct of the internship. All interns are required to attend the two-day orientation session prior to beginning work at research sites. Interns must also attend the three-day student forum following their internship.
Interested? Revisit this site in late January to download specific site information and an application. Or contact Dr. Karen Langford phone: (301) 405-1261
e-mail: KL56@umail.umd.edu

---
INTERNSHIPS ARE AWARDED COMPETITIVELY; THEIR NUMBER DEPENDS UPON AVAILABLE SITES AND FUNDS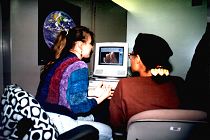 MCTP Interns "Surf the Web" in search of science resources
---
This project is funded by a redeployment grant from the University of Maryland System and the National Science Foundation: DUE # 9255745
---