Physics 117 Student Interviews
Taught Fall 1994, by Prof. John Layman, Department of Physics and Astronomy, University of Maryland at College Park
for the Maryland Collaborative for Teacher Preparation
Physics 117 is an introductory physical science course designed for elementary education majors. It is taught entirely in a laboratory setting, rather that a traditional lecture/lab format, in which students working in groups are expected to predict the behavior of physical systems and to explain their observations and interpretations in their own words, negotiated with their partners.
"[This class] is very hand-on ... you remember what you learn when you do it".
"[Dr. Layman] never really tells us the answer ... he would say 'What do you think? ... How do you find that out? ... go figure it out for yourself...'".
"We got really frustrated at first ... but it's a good way to learn because if he just told it to us we'd never remember it, but if you figure it out for yourself, it helps a lot."
---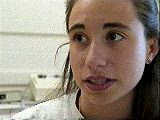 "If we don't answer in the sophisticated answers like we need in other classes, it's a good thing".

"It was so different from all the other classes I've been in, but it's interesting because it makes you think ... "

"You have to question yourself, to make sure ... do I understand'. He questions you more ... and makes you think."
---
"I really enjoy physics, and I especially enjoy it because of the way that Dr. Layman teaches. It's very interactive ... he really trains us to ... expound on what we may already know..."

"His approach is definitely unique; his style is so encouraging ... he makes you think".

"He allows us to blurt out ... because sometimes things just come into your head. "

"As a child I always sort of shied away from math and science but ... I've gotten to see a different angle and ... I see that it really doesn't have to be that difficult."


---
This page is maintained by Prof. Tom O'Haver , Department of Chemistry and Biochemistry, The University of Maryland at College Park. Comments, suggestions and questions should be directed to Prof. O'Haver at to2@umail.umd.edu.