1. Imagine that the year is 240 B. C. and you live in Alexandria. You accept the general idea that the Earth is round, so you can imagine it marked up with lines of latitude and longitude, but you don't know its size. First bright idea: If you knew the connection between change in latitude and distance on the earth's surface, you could estimate the circumference of the earth.
If a one-degree change in latitude corresponds to a known distance d, how would you calculate the circumference of the Earth?
2. Imagine next that someone phones you from a place due south of your home and says "Whew, is it hot! I just went outside and the Sun is directly overhead." You hang up and go outside to find that the Sun is not directly overhead where you live.
This is a hard problem ... it's the key to Eratosthenes discovery. However, if you think about your flashlight Sun shining on a globe and make some sketches of the situation, you might be able to guess (if not prove) the answer. A good guess about the truth is usually the essential first step in finding a logical argument.

3. One observation that might help your reasoning is the fact that, because the Sun is so large and so far from Earth, its light comes in a beam that can be thought of as parallel light rays.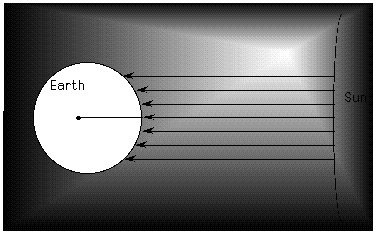 How, if at all, does this assumption change your thinking about using Sun rays to measure change in latitude between two spots on the Earth?
4. The following sketch shows a side view of the Earth with Sun rays falling at two places, one directly north of the other. The Sun is directly overhead at point A, but not directly overhead at point B. Suppose that it is you standing outside in the Sun at point B and your friend at point A.

Do you see anything in the sketch that you could measure to find the change in latitude from point A to point B?

The next sketch shows two points, neither of which lies directly under the sun's rays. Is it still possible to find the change in latitude from point A to point B by suitable clever measurement in this case?
5. Eratosthenes did not receive a phone call! However, he knew some facts that allowed him to reason with much the same information that your phone call from a friend could provide.

Locate the cities of Alexandria and Aswan in Egypt on a map or globe. In 240 BC. the city of Syene was located at the site of present-day Aswan. Residents of Syene noticed that on June 21 of every year at about mid-day the Sun's rays were reflected from the bottom of a deep well. What does that tell you about the latitude of Syene?

On June 21 at mid-day in Alexandria, Eratosthenes measured the angle between the Sun's rays and "straight up" by looking at a triangle formed by the Sun's shadow on a tall building.

He found the angle to be about 7f(1,5) o . What does that tell you about the latitude of Alexandria, in relation to Syene?

Eratosthenes then learned that the distance on land from Alexandria to Syene was a 50 day camel trip and that a camel could cover about 10 miles (in modern units) per day. What does this information imply about the distance from Alexandria to Syene and the distance around the Earth?
6. Now turn to the even older question of determining the shape of the Earth. How could people have become convinced that it is a ball and not a flat disk?

What happens in a lunar or solar eclipse and how would the images seen in such an event suggest that the Earth, Moon, and Sun are round?

Perhaps you are not a stargazer ... or maybe you are. People spent more time outdoors two thousand years ago. They were fascinated by star patterns. Using your twentieth century knowledge, what might observant stargazers have noticed as they traveled? How would those observations suggest something about the shape of the Earth?

Imagine a ship with a tall mast sailing directly outward from land over a relatively calm sea. If you watch for a long time from sea level, what would you notice? How would this observation suggest a round Earth to people living thousands of years ago?
Conclusions and Connections -- The questions of this investigation have been designed to help you follow the course of discovery that led to good estimates of the shape and size of our Earth. Test your grasp of the main ideas by answering these questions:

1. The latitude and longitude of Washington, DC are about 39o N and 77o W; the location of Nassau in the Bahamas is about 25o N and 77o W. How far apart (in miles) are the two cities?

2. Chicago, Illinois is located at about 42o N and 87o W while Managua, Nicaragua is at about 12s (o) N and 87o W. How far apart (in miles) are those two cities?

3. The city of Madison, Wisconsin is located at about 89o west longitude and New Orleans, Louisiana at about 90o west longitude. How could you get friends in those two cities to collaborate with you to make the measurements needed in Eratosthenes method of estimating the circumference of the Earth, using the fact that it is about 1000 miles on land from Madison to New Orleans?

4. Without access to a modern clock or telephones to communicate, how could observers at Syene and Alexandria know that their Sun shadow observations were occurring at the same time on the same day?

5. Without knowledge of the magnetic compass, how could people have known about directions of North, South, East, and West?

6. On the following sketch of parallel lines cut by a transversal, what pairs of angles are congruent and how do those facts play a critical role in Eratosthenes' method for estimating the circumference of the earth?

---
A lot happened between 240 B. C. and 1492 A. D. During the Renaissance, the various nations of western Europe, particularly Portugal, Spain, France, and (the city states of) Italy, found trading with China and India desirable. However, between those European nations and their prospective Asian trading partners lay several other countries inclined to block the trade. So, since the Earth is round, why not go west instead of east to reach the same spot?

Of course, there were other possibilities. Working out a friendly and mutually beneficial relationship with the other countries did not seem to be considered. Perhaps it would be possible to sail around the southern tip of Africa and then up through the Indian Ocean. At the beginning of the fifteenth century Europeans were not sure that there was a southern tip of Africa. (If this sounds silly, remember that explorers were later to spend much effort trying to find a Northern Passage over the top of North America. It was perfectly reasonable to think that Africa might extend into the southern polar regions.) But the tip was reached in 1488, and then Vasco de Gama successfully reached India by that route in 1498. Thus it was de Gama who succeeded in doing what was actually intended. Nonetheless, Columbus, in error about the size of the Earth and believing that he was off the coast of Asia when he was really in the Caribbean, changed history. Such is often the way of major discovery and change.

Accounts vary as to exactly how Eratosthenes' excellent estimate of the size of the Earth got reduced to 18,000 miles by Columbus. Columbus also planned to start in the Canary Islands to sail due west at the latitude of about 30o--making the projected trip considerably shorter than it would have been at the Equator. Further, he thought that the eastward distance to the coast of China was longer than it actually was, and this led him to a corresponding reduction in the westward distance estimate. At any rate, Columbus had it figured that Japan was about 2700 miles west of the Canary Islands. Even if, as many Europeans believed, Japan was a fictional place made up by Marco Polo, it wouldn't be much farther to China.

Columbus' proposed trip was controversial. He had been turned down by Portugal, France, and England when he turned to Ferdinand and Isabella in Spain. The royal advisors in Spain were opposed to the trip. Remember, the issue was whether this was a practical way to get to China and India. No one had yet thought of plundering a whole new continent.

Advise the King and Queen

Imagine that you are a Royal Advisor to Their Majesties Queen Isabella and King Ferdinand of Spain. The Queen calls you in one day and requests that you design an experiment to discover the true size of the Earth.

1. How could you reproduce the experiment of Eratosthenes without leaving Spain?
Use whatever current globe or atlas information you need and write up a careful explanation of your method and conclusions.

2. Use your result from (1) and further reasoning to figure the distance around the Earth at a latitude of 30o. The following sketch might be a helpful guide in calculating the circumference of that circle of latitude.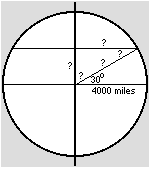 Again, write up a careful explanation of your method and results.
---
HTML coding by Shuwen Wang, April, 1995.