FS 36270
Moon is a common scene around my town, here where everyone is painted brown. And if we feel thats not the way. Let's go and paint everybody gray. Yeah grey, yeah.
Arthur Lee / Love , "Maybe the People or between Clark and Hilldale."
In the long past year the topic of race relations in the United States came to mind, couple of times. In a current events driven way, as we used to say in my school days. I found myself thinking did race relations really improve in the US, or is this white nationalist reaction, seen in the streets, in the voting booth, in high office, denying the plain meaning that "Black Lives Matters", the real mood of this society at present. I also noted that is the fortieth year since I spent a winter at Recruit Training Command, Naval Training Center Great Lakes Illinois. One of my points of thought came from that time in boot camp.
Also at some point in the fall I read something on twitter recalling the riot -- race riot really -- on the USS Kitty Hawk in 1972. My years in a very different Navy started just six years later.
Over Winter break I took home from the library (where I work as a copy cataloger) a book Troubled water : race, mutiny, and bravery on the USS Kitty Hawk by Gregory Freeman on the Kitty Hawk riot of November 1972. 1972 was a very troubled time for the US military. The main phase of the Vietnam war was nearly eight years in, lost and given up on by our political leaders. Yet soldiers and sailors were still fighting and dying. Fleet Aircraft Carriers like the Kitty Hawk integral to the Navy's warfighting were being kept on on overseas deployment -- away from home port and families -- for nine months or more. Deliberate sabotage to the engine of the USS Ranger caused just such an extension to the Kitty Hawk's Westpac. Soon after, crew stress began to to take over. At that time many Navy vessels even large important ones were almost entirely segregated in sailors living quarters and assigned duties. This latter was especially critical as many black sailors came into the Navy with too low a score on the vocational test to obtain a rating (job category) and so were simply assigned to deck duty and mess deck serving duty. In work rest and recreation these worlds, white and black, were apart. In mid October in a port call in Subic Bay Naval base in the Philippines and later in Olongapo the adjoining city. Incidents occurred over two nights. Black sailors took to the stage at the EM club to make pronouncements of Black power and others later repeated this at other bars in town (at the time generally segregated). The Kitty Hawk then returned to sea and Yankee Station with a divided crew stewing on grievances. The African-American portion of the Kitty Hawks crew was 295 out of around 5000 only around six percent (Freeman, xiv) There were minor incidents and fights involving Black sailors transiting to the mess deck and in the mess line.
On the Night of 12 October, some assorted group or groups of black sailors decided they had had enough of second class treatment and decided to to take the fight to those they perceived as disrespecting them. Hours of marauding sailors, random beatings and confrontations with the Marine detachment in the hanger bay and by the sick bay where the injured where taken followed. The CO Captain Marland Townsend and XO Commander Benjamin Cloud inexplicably left their normal stations on the bridge and went down below deck to personally investigate and attempt intervention. This only led to them losing contact with each other and with the ships command structure, adding to the confusion of an already disastrous evening. Cdr. Cloud was African -American and part Native American and by all accounts gave a barn burner speech before the rioting sailors that likely kept the situation from getting much worse. Unfortunately getting separated from from his commanding officer and in the process getting off message with him caused Capt. Townsend to lose confidence with him during these critical hours which he only gained back in the considerable fulness of time. Both men are long retired but still alive.
One thing that stuck me in all this was the strange familiarity of the background particulars of the incident. The same ships Kitty Hawk and Ranger. the same waters, the South China Sea. Same ports and towns Subic and Olongapo. Even the Squadron I was later attached to, RVAH-7, was part of the air-wing deployed on the Kitty Hawk for that cruise. For my WestPac in 1979 we were on the USS Ranger. The cold war all volunteer period; though, was one where the military definitely faded from the public eye probably more similar to mid to late 1950's than to any point in the mid 1960's or early 1970's
I also felt reading the accounts of Cdr. Cloud echoes of President Obama as a black man trying to address race relation. Perhaps it's hard not to hear now.
The upshot of this for the principles is that Captain Townsend did not become an Admiral, and CDR Cloud never achieved the Navy's ambitions for him of becoming the first black Captain of a major American warship. Almost immediately Navy public relations damage control had the men identified as guiding the riot transferred off the ship to preclude court maritals and further press coverage. The Westpac ended and the Kitty Hawk returned to its home port San Diego.
Within a few weeks Congress decided this and other incidents were worth hearings. These were the Hearings on Navy discipline 92nd congress held between 20November-18December 1972 Hearings before the Special Subcommittee on Disciplinary Problems in the U.S. Navy of the Committee on Armed Services, House of Representatives, Ninety-second Congress, second session ... . Congress and the Navy were more concerned with a sit-down strike by another Aircraft Carrier the USS Constellation in the same period which delayed a deployment and was seen as a more direct challenge to military authority.
Congress attitudes concerning the Kitty Hawk revolved around general laxness of discipline tolerated by Commander Cloud and Captain Townsend. Noting only in passing the facts of black sailors stuck in unrated jobs and self segregated living quarters.
Here they largely identified and blamed something called Project 100,000 a Johnson/McNamara endeavor which was actually part of the War on Poverty Project 100,000. It aimed to increase the number of minority members in the Military by 100,000 a year by relaxing standards in recruiting such as waiving misdemeanors, lack of high school diploma and lowered scores on the Armed forces qualifications test (AFQT). The Navy in particular though this burdened them with too many untrainable, unprofitable and therefore frustrated sailors. I'll add more on that further on. The draft was phased out in this same this time period. The last call-up was in December 1972 . Defense Secretary Laird cancelled a call-up for those born in 1953 early the next year. Going forward it was an all-volunteer Navy
I want to mention my own experience in boot camp particularly here. RTC/NTC Great Lakes in the dead of winter of 1977/78. Specifically an incident I recall as ASMO DAY IN THE LAUNDRY ROOM. Though in fact the day revolved around a meeting table on the opposite side of the bunk bay from the laundry room. A room heated up to 90 degrees where clothes and coats were hung to dry. We were under orders to stay out of the Laundry room. It was too warm and pleasant and was forbidden. ASMO is an acronym I never heard again after book camp it stands for Assignment Memorandum. It is an administrative non-judical, non-formal way of setting an individual or company back in training. My phrase is a play on the title of Joyce's short story "Ivy day in the committee rooms."
After only a week or so of training in book camp our Company Commanders issued a stop work training order due to pattern of non cooperation between the white and black recruits in our company. Threatening to have the entire company set back (or ASMO'd), they requested (ordered) us to organize a committee to hammer out the emerging differences. Briefly, these were: first, no leadership roles for the black recruits. The existing leadership roles were recruit company commander and assistant recruit company commander. Both roles went to white recruits (even though our company that winter was was nearly split even) individuals who had some military school back ground. Second, name calling. All the usual words. Finally, Shaving Chits. This a request by one older recruit (mid 20's was old then) for an indulgence not to have to shave close) I was on this committee, which took up an entire day.
The resolutions at the end of that day were oddly fairly straightforward: (1) we created a position of Cadence Caller an individual who was responsible for setting the marching rhythm and the impromptu rhyming and storytelling-time-calling song that is part of that. There is a great deal of random marching around to boot camp, marching on the Grinders was competitive between the companies. This became a successful and popular position. So much so that there were white guys who wanted a turn at it. This was set to the discretion of the Cadence Caller. (2) The name calling solution proceeded with a few simple rules - learn a persons name then call him an asshole or a fuck-up whatever as is your want, but don't call him whi-- or ni--. The toughest nut to crack there was about one of the people I was friendly with, one of the five of us who had flown in from Boston. He was very dark complexioned and called spook by the other blacks. I knew he was hurt by this, though he tried not to show it at first. All the knuckle-head white crackers took the position that if the blacks could name call amongst themselves why should they give it up. That was a long difficult and unpleasant portion of the day, with an odd amount of feelings and introspection by all sides by the end. The outcome was a reiteration of the no name-calling rule. No, just no, no. (3) The shaving chit situation was resolved by walking the white guys on the committee through the reality that some black men do not like to shave close because they get ingrown hairs and very uncomfortable facial bumps and acne. Once that was explained the issue was settled no further objection. What stuck with me all these years was not the fairly obvious and easy resolutions but the process, and the Navy's commitment to immediately dealing with racial tension.
Soon after this I was made company clerk replacing the previous one, largely due to my ability to pass all the classroom tests of recruit training without setting foot in any of the classes or training. I spent most of the rest of boot camp, collecting intra-base mail, typing up reports, and chasing down ASMO laundry. I never marched another step.
Out of boot camp into the fleet through I still remained pretty naive about racial tensions. My first Duty unit was at Naval Air Station Key West. I was assigned as an aerial photo-interpreter to a reconnaissance squadron that would deploy with fleet air-wings. Much of the squadron, RVAH-7, was composed of southerners and had a higher percentage of African-Americans than the national average and certainly more than the part of Massachusetts I came from. But with only three planes we were a small and reasonably tight knit community. I recall a lunch in the mess hall with two black Senior Chiefs who sat down with me -- a 5'2" 100 pound seamen apprentice -- and started a half hour conversation with me in deep Alabama home accents. I could follow none of it, which they knew, and I was aware they were trying to get me rattled. It started off a little mean, but going along with the game as best I could it ended fine.
On the ship later going through the mess lines we were advised with no additional commentary to keep our eyes on our own trays and to take what we were given with no back talk to the servers. A few years later working the dining halls at the University of Maryland I was amazed at how much back talk you would get when that rule didn't exist. It never occurred to me what a powder keg a mess line might be. On one occasion some black sailors came into the line with one of them having an enormous boom box perched on his shoulder at full volume (this was a thing in those days). I had the sense that they were trying hard to aggravate people. It didn't work, as it turned out that there was nobody there who did not like the song "Flash Light"
One thing that came back to me as I read the "Troubled Waters" book was Dap greetings elaborate black power black solidarity handshakes Giving dap. It still existed, but as a lower key event. that didn't seem to spark much tension. Its still seen today, apparently in football, and basketball pre-games, though often un-televised. In those years I also became acquainted with the concept of Afro-packing which involved cutting off the foot of a pair of nylons and pulling over your hair at night for a nice squared-away look the next morning and the picking it back out for liberty hours after work.
Squadron life in Key West and on the ship gave me one impression of Navy but perhaps not every part of it beyond. My next duty station, after Heavy 7 decommissioned, was in the Pentagon. The squadron had been southern unit full of people of all colors. The Pentagon was not such a place. It was uncannily white and more than a little over-wound. Knowing only those two environments left me with an incomplete idea of what the whole Navy was like at the time. Going up to NAS Jacksonville for Aircraft Team firefighting school seemed a very different place than NAS Key West.
One of the people out of the 1979 Ranger CVIC organized a reunion a few years ago. At the time he was an ISSN like me, but had retired as a Chief Petty Officer and had recently organized a reunion for another ships CVIC. We talked over the phone briefly and through email about the event and who else to contact. This exercise led to an odd non-acknowledgement we even had black shipmates. We had three (Tobler Goings Granger), he professed not to remember any of them or DM2 Castro
[Castro's drawing of OZ leadership for FleetEx knee-book]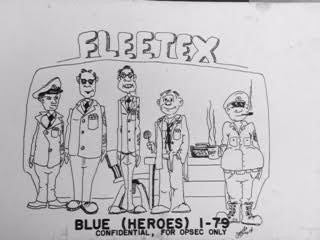 . He suggested my memory was faulty. I still got that WestPac's cruise book though.
After finishing the book Troubled Waters I wanted to learn more. In the aftermath of the incidents of 1972 and congressional hearings the some in the Navy determined they were taking on too many sailors who, they felt, were unqualified, untrainable and therefore un-advanceable. The question I had were how much of that was true, and what if anything changed. between 1972 and 1978-79 when I entered the Navy. Did the Navy as we were told then provide a model for integration, acceptance and genuine career advancement in the late 70's/80's through to today? There was another book on the shelf in McKeldin Library I wanted to read Black sailor, white Navy : racial unrest in the fleet during the Vietnam War era written a few year earlier by John Sherwood (also available as an ebook through Project Muse) an historian with the Navy Historical Center that not only covered the Kitty Hawk riot, but takes a deeper and more comprehensive look at the Navy in the civil rights era. Giving more background and covering the many other incidents. Such as the Constellation's (another aircraft carrier) sit down strike which concerned the Navy far more at the time. The Kitty Hawk incident did not even interrupt operations -- planes were flying the next morning. Additionally Sherwood's book concludes a few closing chapters on the Navy's efforts to deal with this situation and move forward. Culminating by the end of the decade (right at the time I came into the Navy) with the Navy's pitch that it nominally free of systemic bias and home to good jobs even careers for everyone.
There were plenty of black noncoms in various ratings that provided solid wages for raising a family if one chose to. And the possibility for significant advancement. An aside here; I recall last year Slate Political editor, Jamelle Bouies, mentioning that both his parents were career Navy, Chief Petty Officer and Warrant Officer, if memory holds. I take this a partial confirmation that the Navy's claims may be true
Under the direction of Chief of Naval Operations (CNO) Admiral Zumwalt a number of bias elimination programs were initiated. Key among these was a racial awareness seminar series to be taught by dedicated billets called UPWARDS (an acronym). Within a year or so these phase one programs aimed at changing attitudes and raising awareness through challenge talk encounters were deemed ineffective and by the mid 1970's were being gradually eliminated.
Replacing them were efforts to eliminate cultural bias in the initial vocational test taken during the recruiting phase. The ASVAB Armed Services Vocational Aptitude Battery test became standard in 1976 replacing the AFQT. The aim here was not to have low scores on this test preclude entry into rate training schools (A schools) and having large numbers of recruits enter the fleet as non-rated, often not even strikers, those apprenticed to a rating. Rate training technical schools are anywhere between a month to half a year or more depending on the rating. Technically all sailors are strikers until they make e-4.
When Admiral Holloway became CNO in 1974 Phase two of the bias elimination programs were under way. UPWARD billet holders were retrained as Equal Opportunity Program Specialists (EOPS) whose task was to collect and analyze Equal Opportunity Quality Indicators within their units. These include promotion rates, retention rates, and outcomes of nonjudicial punishments (Captain's Mast and such). In addition during this period the Navy was also running regular Cultural Expression workshops. Moving into the second half of the 1970'a Holloway initiated the Navy Affirmative Action Plan. The overriding goal of this was to move minority Sailors -- and officers up into leadership positions within the Navy. To accomplish this the Navy moved to innovative recruitment, and objective goals. the former basic test battery and ASVAB scores were relaxed to promote entry into technical ratings. Strikers those e in particular entering the fleet without a rating (a job speciality) or being routed through an A school, entering the fleet in-fleet training and commanders waiver to send to A schools. In addition the Navy strengthened this initiative with job-oriented basic skills program and remedial education programs. Holloway by 1978 rolled all these disparate programs into the Navy Affirmative Action Plan and gave it wide visibility throughout the fleet.
All information related from this section, of course, comes from my reading of Sherwood. I had hoped to find or evidence of minority sailors moving up the noncom ranks --Chief Petty officers, and into technical ratings over the years by poking and prodding the internet with google or duck duck go. I did find a site DoD Personnel, Workforce Reports & Publications - DMDC which has some Navy numbers across time, but without minority breakdown as far as I can tell. I suspect this organization does has such data, but possibly only within mostly government internal reports and publications.
Sherwood's book does have some data from the period he covers. He notes: "By 1974, only 36 percent of black sailors entering the Navy attended "A" school, compared with 60 percent of whites." and that "Overall, minorities represented 7.4 percent of the Navy in June 1974, far short of the goal of 11.9 percent (the same as the percentage of blacks in the American population)" (p.242). In the next chapter: "By 1976, blacks represented nearly 8 percent of the enlisted Navy but only 1.6 percent of the officer corps" (p.252). The Navy set specific goals for recruitment and retention in those years and sought to meet them: "In the area of enlisted recruitment, the Navy came close to achieving proportional representation in 1977—nearly 11 percent of new recruits were black, and African Americans represented 8.5 percent of the total enlisted force" (p.256). In the Appendix (p.271-274) there is a good snapshot of black presence on Navy Technical ratings in 1970. My rating, Photographic Intelligenceman (PT) [changed to Intelligence Specialist (IS) around the time I joined] was 0.35%. That is one third of one percent.
I also want say a few words based on a chapter in the book Scraping the Barrel : the Military Use of Substandard Manpower, 1860-1960. A series of case studies in military subpar manpower -- Sticht Thomas. "Project 100,000 in the Vietnam War and Afterward" 254-269. Also available from Project Muse: Scraping the Barrel The Military Use of Sub-Standard Manpower - ch.11. The general historical view of Project 100k is very critical. Counter-criticism of this conventional view are two fold. It was foremost a political program -- part of the war on poverty and therefore ought to be evaluated in part on that ground. Studies done to examine its efficacy used in congressional hearing used approximations, being that no formal tracked cohort was part of the program. The author of this chapter looked at other studies believed to be a better fit for a longitudinal study and found more favorable results both in military service and later in civilian life. (Sticht, p.264 with original reference)
The data presented above, concerning the employment and income status of Project 100,000 personnel after they left the military, confirms that the War on Poverty goal was reached for the large majority of Project 100,000 veterans. Before their service, 46 percent were unemployed, and, on average, the Project 100,000 personnel were earning below- poverty wages for an individual. Years after their service, more than 80 percent were employed, and they were earning well above the poverty level for a family of four...These data challenge the validity of those who claimed that military service did not provide a "leg up" for the veterans over lower aptitude nonveterans.53 (Laurence et al., Effects of Military) Experience, 92.
What lessons given the apparent success within Navy should we take from this What in particular did the Navy do to achieve its goals? After the experiments with with talking/discussion groups the Navy moved to proactive measures to train people who were falling short of broadly set standards and not comprehensive campaigns to raise consciousnesses and change racial attitudes. Primarily these were (1) reach for results to make the organization look like (the best version of) the society it came from and serves. (2) training programs, education and the money it takes to run them. The Navy abandoned or rather de-emphasized approaches based on negating or over-turning accumulated attitudes and prejudices. Replacing these with a policy of creating leaders and people in-place trained and accomplishing the work. A self evident counterfactual to prejudice. It was a policy based on the belief that in a greater good, a greater justice. Done stringently, in good faith, and with backing up the chain of command over time -- this works.
Several decades arguing the merits of affirmative action within the larger culture has only revealed the following. A society un-attended of genuine equal opportunity has never really existed. The level playing field has not been achieved. This is not a color blind nation and the law ought not pretend that it is. The problem is far deeper more entrenched more tragically part of the warp and weft of the nation than previously imagined, or admitted. That any acknowledgment or redress of racial disparity itself constitutes bias which no vision of a larger societal goal can ever contend with is not a sustainable view. Viewed from the current moment it was never more than a bad faith argument then or now. Even in 1979 when I was directly observing it and looking over the years to today I feel the Navy got something right that the nation as a whole did not.
---
Sunday, 04 March 2018 21:00 EDT #