ENES 100G - Section 0301
GEMSTONE
Introduction to Engineering Design
Wednesdays 12:00pm-12:50pm in JMP 3105 -- NOTE CHANGE!
Fridays 8:00am-10:00am. in JMP 1202
---
Instructor: Kaye L. Brubaker
Office: Engineering Classroom Building (EGR) 1159
Phone: 301-405-1965
Fax: 301-405-2585 (Department Fax -- please advise by phone or email if sending fax)
Email: klbrubak@eng.umd.edu
Office Hours: Mon., Wed. 3:30-5:00 pm; other times by appointment.
Teaching Fellow: Christina Moore
Office: J M Patterson Bldg. (JMP) 2102
Phone: 301-405-0391
Email: alston@wam.umd.edu
Office Hours: Tues. 4:00-5:00 pm; Wed. 11:00-12:00 am
Graduate Teaching Assistant: Zhenya Huang
Office: J M Patterson Bldg. (JMP) 1201
Email: rayhuang@eng.umd.edu
Office Hours: Thurs. 8:00 am-12:00 noon
Note: The ENES 100 Graduate T.A. office (JMP 1201) is staffed Mon. through Fri., 8:00 am-4 pm. Any GTA on duty can help any ENES 100 student with Engineering Drawing, ProENG, PowerPoint and Excel.

---
Texts:
Introduction to Engineering Design, Book 3 ("Green Book") (Dally, 1998)
Engineering Design and Pro/ENGINEER ("Brown Book") (Zhang, 1998)
GEMSTONE Fall Semester 1998 ENES 100 Supplementary Notes ("Gemstone Supplement")


Click here for a list of typos and other errors that we've found in the textbooks and handout. Please contribute!

---
Assembly Room: JMP 1116
JMP 1116 has been assigned to all four Gemstone sections.
The Assembly Room is reserved for our Section (0301G, Brubaker) during our Friday class time, 8-10 a.m.

Assembly Room Hours: Available from 8 a.m. to 8 p.m. Monday through Friday, except for the following times:
Tuesday 10-12: reserved for Section 0201G (Destler)
Friday 10-12: reserved for Section 0101G (Chang)
Friday 2-4: reserved for Section 0102G (Moglen)

Weekend hours will be established soon.
---
Computer Lab: JMP 2115
Computer Lab Hours: Mon. - Fri., 4:00 - 8:00 pm, Sat. 10 am - 4 pm
During these hours, staff will be on hand to help you with Pro/Eng, Excel and PowerPoint.

Outside these hours, all students are welcome to use the WAM PC labs elsewhere on campus. See Open Workstations web page, where information is organized by department, location, and by available software. Particularly recommended (ProENG available) are the labs in the Engineering Classroom Building; these labs are open 7 until midnight on weekdays, 10-5 on Saturdays, and 10-midnight on Sundays. First-aiders are on duty to answer your questions.
---
Teams:

Agua Viagra: Chad Ellinger, Andrew Wortman, Jenny Logue, Tom Goldstein, Gregory Sanders, DeeDee Tsamoutalis, Keysha Garner, Ivan Lutchenkov.
Agua Viagra Home Page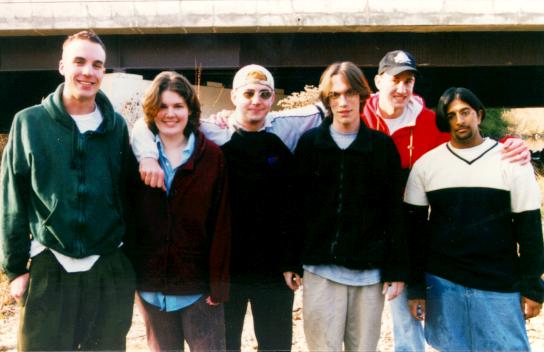 Hea Vesi: Eric Campbell, Kristen Waters, Chris LaGarde, Tony Irish, Justin Coon, Ananth Charya (not shown: Siret Kork)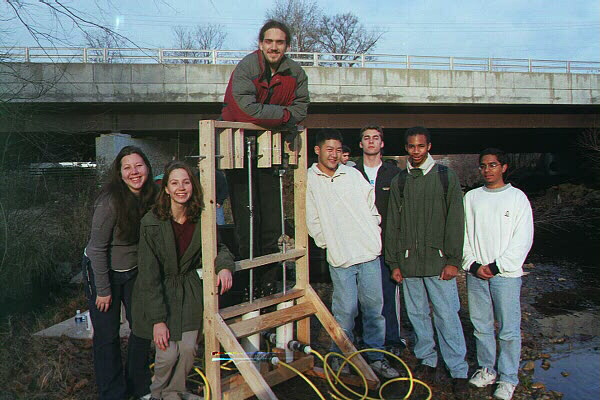 Opal Irrigation: Pia Rappaport, Katie Young, Dan Levy, Gary Yang, Mike Ernst, Michael Way, Vinod Shekar



TranSudan Irrigation: Shihwe Wang, Beth Flynn, Alan Bender, Justin Bitely, Brian Mark, Jeremy Rachlin, David Lott
TranSudan Irrigation Home Page

---
Test Site & Schedule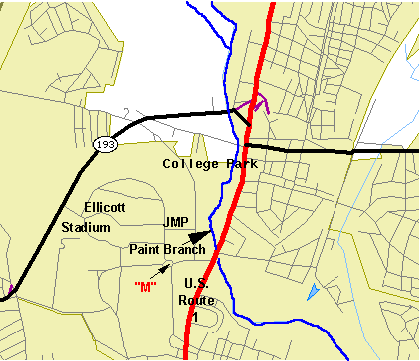 Pumps will be tested on the banks of Paint Branch, which runs along the East side of campus (Click on the small map above for a blow-up). Paint Branch is easily accessible from the bike path under U.S. Route 1, just North of the Campus Drive entrance to UMCP.

Click here for Final Testing Schedule


Base map created using U.S. Census Tiger Mapping Server

---
Class Resources
---
Pictures from years past (ENES 100 Human-Powered Pumps)
---
Web Links:
---
Click here to E-mail questions or comments.

Copyright Kaye Brubaker August 1998
Last Modified 9 December 1998