The Behavioral Influences of Language
or
"Sticks and Stones may break my bones,
but words . . ."
Return to the COMM 453 Home Page
---
We turn now to questions of community action
Remember we contrasted individual with community perspective. The individual perspective looks at social behavior as simply the sum of individual behaviors. But we reverse that perspective. We are interested in explaining the variety of behavior in a community and look at individual behavior as the invoking of an accepted community meaning system.
Remember that meaning systems involve three functions:

They are used to describe situations.
They describe in such a way that they invoke values to evaluate elements of a situation.
In naming the situation properly, they frame our response to the situation.

The last implies that meaning systems motivate behavior. We will now call meaning systems "motives" and will explore the implications of that term.
Return to the Contents of this Page
Return to the COMM 453 Home Page
---
Changes in the way you think of motive
We will view motives differently than they have been viewed in dominant traditions of psychology in this century.
Traditional Ways of Thinking about Motives: Behaviorism
Traditional Ways of Thinking about Motives focused on individual action. This traces from Descartes who seeks the bedrock of philosophy and decides it is "I think, therefore I am." This starting point focuses questions of philosophy on the individual and all actions are derived from his/her mentality. This makes us think of behavior as the behavior of one individual in a single space-time moment.
Traditional Ways of Thinking about Motives were analytical. That is, they operated by breaking the individual down into parts. Thus motivation was conceptualized as (1) drives which existed in all human beings (2) were activated by some stimulus such as a message (3) and once activated caused the individual to behave in a certain way. This created an elemental perspective on motives in a couple ways:

Motivation was in the individual. We broke the individual down into his/her drives, saw stimuli as external and behavior in simple causal response depending on which drives were activated. All this was located in the brain.
Motivation could be manipulated by identifying the characteristics in the individual we wished to tap. Thus, we would use demographic analysis or opinion polls to discover the things that a group of individuals carried around with them that we could trigger. Sociality was constructed as sheer similarity in individuals.

Traditional Ways of Thinking about Motives were Physiological. Since drives and thus motives were within the brain, they could be studied as physiological states. Since we could not cut up people's brains to study them, we developed theories of motivation from animal experiments. We constructed accounts of human motivation based on humans character as animal.

Maslow's hierarchy of prepotency exemplifies such theories of motivation. Maslow argued that there are five levels of motivation in every individual. Until the lowest drives were satisfied, only that class of drives would be active and available to motivate behavior in that individual. Once generally satisified those drives would no longer motivate, but the next level of drive would become active instead. And so forth up the hierarchy of prepotency.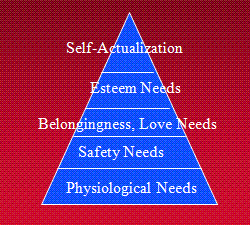 Traditional Ways of Thinking about Motives turn to Motives to explain Causality. The key question is "What caused them to do that?" The answer is always found within, and is obscured from observation by communication which may or may not be an accurate reflection of the "real" motive inside the brain.
Traditional Ways of Thinking about Motives treat Communication as Stimuli. Messages are studied as stimuli in a cause to effect model with behavior as the response mediated by the internal drive state of the individual. This gives rise to the entire persuasion model that has dominated communication study and to the theories of motivating through speaking.
Return to the Contents of this Page
Return to the COMM 453 Home Page
Our view changes the questions of motive: Symboliic motivation
We focus on different questions

John Dewey writes that "It is absurd to ask what induces a [hu]man to activity generally speaking. [A human] is active beings an active being and that is all there is to be said on that score" Human Nature and Conduct (New York: Holt, Rinehart, and Winston, 1922), p. 119.
Branislaw Malinowski says, That humans eat is obvious and uninteresting. What is interesting is that some do it with their fingers while others use a knife and fork.

We seek to explain the variety of human behavior. We are not interested in explaining the similarities but the variety. We see clusters of behavior to be sure, but we see the coordinated action of communities more than we do a whole community acting the same way based on some common characteristics. We want to explain the interaction and the coordination and the conflict within communities, not just the similarities.
We seek the repetitive patterns of action in the community rather than individual behavior. Any interest we have in individual behavior is within this context: the way in which individuals as socially contextualized actors develop ways of seeing their situations in community contexts.
Return to the Contents of this Page
Return to the COMM 453 Home Page
We reconceptualize motive to serve our need to answer these questions
Motives are extra-psychological. Motives are not found in individuals, but are in the discourse which surrounds them. Motives are chosen as ways of meeting situations and responding to them.
Motives are symbolic. That is, communication does not re-present motives in individuals, but instead communication is real and is the motivational stuff of the community. Individual motivation can only be understood as the communicative dimension of action. This means that we study communication not to understand something we cannot see -- the state of internal drives -- but to understand something that we can see -- the repetitive patterns of the communication that coordinate action.
Action is social and we need communication. When we remove the blinders of the traditional perspective on motivation and think about action we realize that it is social at several levels:

Most obviously, most human action takes place within a group and communication coordinates that action to involve many in an interaction.
But, in addition, we realize that most individual action is learned from (patterned after) the constant repetition of behavioral patterns by our social groups. We learn how to respond to certain types of situations and we simply need to figure our what type of situation this is we meet.
When we act as individuals, we also seek approval or disapproval of our actions from other individuals. This is an obviously social process.
Finally, even when we are in total privacy, alone in a room with no one around, our "conscience" invokes our social community in a process in which we question whether our actions are appropriate.

Communication is the place where motivation is framed.
Return to the Contents of this Page
Return to the COMM 453 Home Page
---
Motives are Performed in Language and Rhetoric
We have seen that motives link description, evaluation, and response. Different perceptions lead to different actions and with words and rhetoric a community discusses a situation to reach a perspective on it. Thus, a choice of names is a choice of motivation. Symbolic motives tie perception with action.
Motives are social and thus shared by language. The shaping of a motivational interpretation in the discourse of the community coordinates the response of that community to the situation. The sharing of that motive in the "talk about" creates common behavior. In the "talk about" interpretations develop and choices are played out in action.
Motives thus emerge from community talk. The talk that we discussed forming the identity of the community frames these responses to typical situations. Communities develop a set of important situations and ways of describing them. The ways of describing name the responses.
The discourse of a community lies before us for us to study to understand that community's motivations.
Return to the Contents of this Page
Return to the COMM 453 Home Page
---
The Nature of our Study of Language and Behavior
We look for motives in community rhetoric. Will tell us something about perceptions of reality. Will tell us something about the values of community. Will help us explain the rituals, responses, the actions of the community.
We look at differences between communities. We see the great waves of unity and division that unite communities and at other times divide them in conflict, that set some communities against others, that ally some communities with others. These alignments are performed in the motives.
We look at differences over time. We see the evolution of motives used in day-to-day life as situations change and they are tested.
Return to the Contents of this Page
Return to the COMM 453 Home Page
---