An even split of the expenses was agreed, and several men began pumping out and working the pit in December, 1887 (Fig. 8).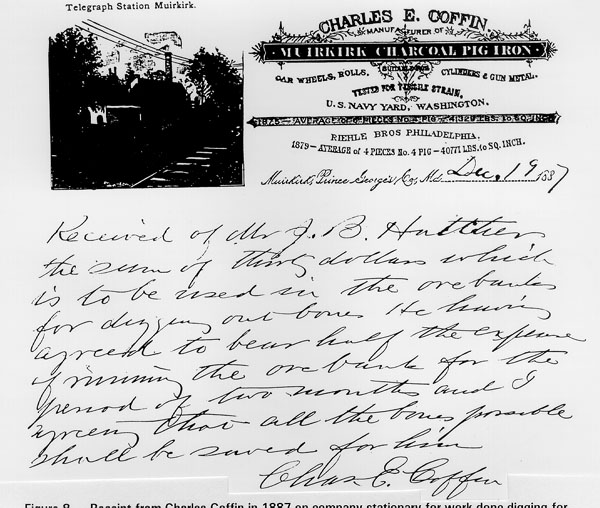 Figure 8.— Receipt from Charles Coffin in 1887 on company stationery for work done digging for dinosaurs by J. B. Hatcher (Marsh Papers).
All Hatcher's digging and collecting enabled Marsh to report finding "new genera of Dinosaurs from the Potomac formation" (letter from W. J. McGee to O. C. Marsh, 4 January, 1888 in the Marsh Papers).
Professor Marsh joined Hatcher on Sunday, 8 January 1888, and returned to New Haven, Connecticut on Saturday, 21 January 1888. While there, the two of them and their assistants recovered hundreds of bones and other fossils. One week later, after Marsh had returned to New Haven, Hatcher sent him another box of fossils, including one Hatcher thought looked "much like an Allosaurus tooth, but it is much larger and stronger than the one I sent you last . . ." (letter from J. B. Hatcher to O. C. Marsh, 28 January, 1888 in Marsh Papers). Today, these fossils form the basis of the main collection of Potomac Group dinosaurs (Early Cretaceous age) housed at the National Museum of Natural History, the Smithsonian Institution in Washington, D.C. These events were chronicled in Hatcher's diary (Appendix C).
From the bones they found, Marsh named several new species of dinosaurs, including Priconodon crassus, which is an armored dinosaur, large meat-eating dinosaurs and a number of sauropods. Shortly after the work of Marsh and Hatcher, what is effectively the rest of the Smithsonian's collection was made in the early 1890's by Arthur Barneveld Bibbins (Fig. 7d), a Johns Hopkins University graduate student and local geologist.
Concerning special plant deposits at Muirkirk and Contee, Bibbins wrote: